Kanye West Trends After North TikTok Dresses Up as Ice Spice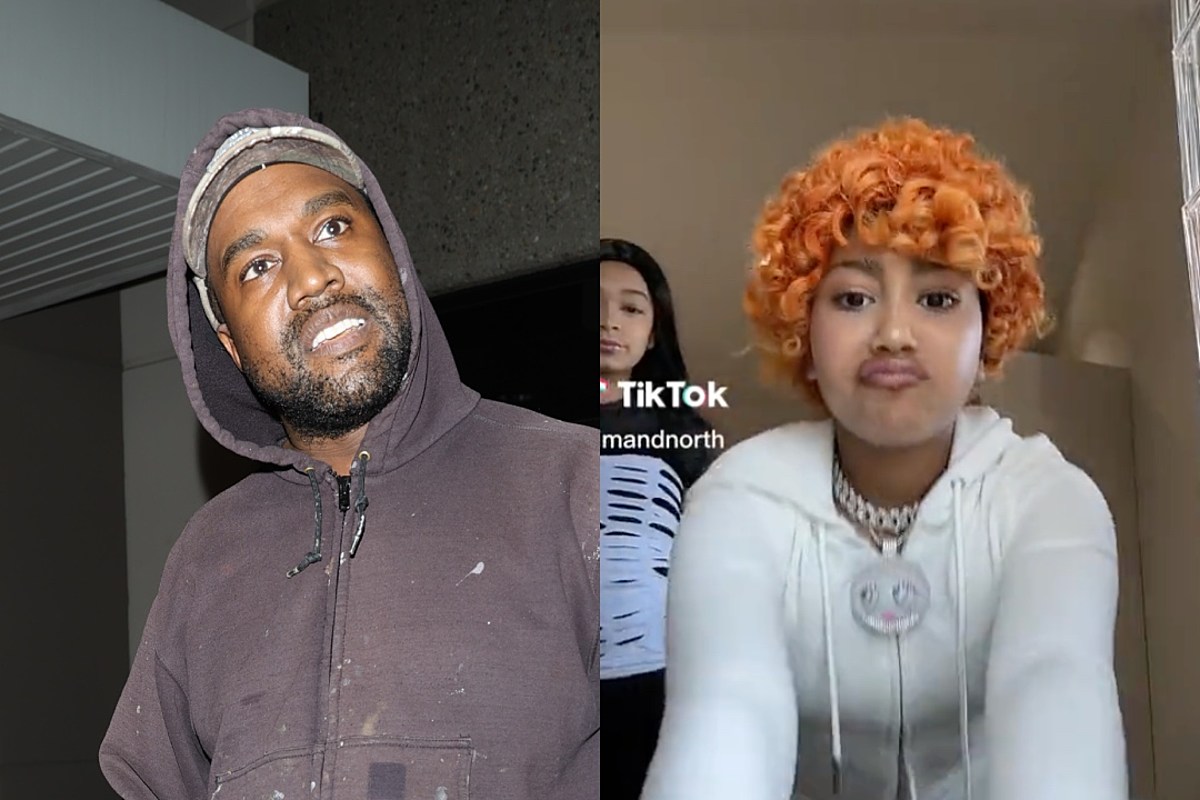 North West has taken her fandom for Ice Spice to new heights by posting TikTok videos resembling the buzzing rapper. However, following North's clips going viral, the internet appears to have sided with her dad, Kanye West, who previously spoke adamantly against North appearing on the video-based social media app.
On Monday (March 6), North posted several videos on her TikTok page, including herself and her friends, dancing to PinkPantheress and Ice Spice's hit, "Boy's a Liar Pt. 2." In the clips, North is rocking an orange curly wig, similar to Ice Spice's signature hairstyle, along with a white Juicy Couture sweatsuit and two chains. One is similar to Ice Spice's $100,000 diamond chain with her face on it. The video can be found at the bottom of this post.
Hours later, Kanye West began trending on Twitter, with one person simply saying, "Kanye was right." The social media user also included a video of Ye condemning his adolescent daughter's use of the app. In the clip, Kanye said, "…Father, I know y'all don't respect fathers and the idea of family and the media tries to promote something. I said, 'I am not allowing my daughter to be used by TikTok, to be used by Disney.' I have a say so."
Others had lengthier comments to share, also defending Kanye while also bashing Kim Kardashian's parenting.
"Kanye was right … there's no way a 9 year old should be idolizing ice spice and listening to her music about twerking and having $ex with men… Kim is a terrible parent," the person typed.
A third Twitter user said, "North has gone too far! ???."
However, there were other people on Twitter who disagree with Kanye.
A different person wrote, "Y'all saying Kim is wrong and Kanye needs custody bc North got to hang out with her fav artist is so goofy. Y'all are the most miserable group of adults ever."
One of the main reasons it appears that folks are sounding off on North West's video is due to the nature of the lyrics the 9-year-old now-social media star is reciting.
The lyrics are: "He say that I'm good enough, grabbin' my duh-duh-duh/Think about s**t that I shouldn't have (huh)/So I tell him it's one of me, he makin' fun of me (ha ha)/His girl is a bum to me (grrah)/Like that boy is a cap/Sayin' he home, but I know where he at, like/Bet he blowin' her back/Thinkin' 'bout me 'cause he know that ass fat (damn)."
As of reporting time, only one video is available on North's TikTok and the others have been removed. The remaining video is a split-screen video of North West reciting the lyrics to Ice Spice's "In Ha Mood," alongside the clip of North doing a TikTok to the same song with Ice Spice herself along with North's friend and mom, Kim, which also went viral days ago.
Almost a year ago, Kanye West went off on Instagram against his ex-wife, Kim Kardashian, for allowing their then-8-year-old daughter be on TikTok. Kanye was speaking on North wearing dark-colored makeup and remaking a video on the app of Machine Gun Kelly and Willow Smith's song "Emo Girl."
Ye said at the time, "I told y'all before about this tik tok stuff. Now my 8 year old on here singing she fell in love with an emo girl Leftist don't want fathers to have no say in our childrens [sic] lives."
He later added, "Hey everybody, I just got off the phone with Kim. I told her to stop antagonizing me with this TikTok thing. I said never again. I am her father and I know y'all don't respect fathers and the idea of family [but] I said I'm not allowing my daughter to be used by TikTok, to be used by Disney. I have a say so."
Kanye West has since taken time away from social media, and despite a recent cryptic post on Instagram, it doesn't look like he's joined in on the conversation about his prior feelings against his daughter being on TikTok or the support he's receiving online. Nonetheless, check out a series of tweets pertaining to the conversation below.
See Reactions to Kanye West Trending Over North West's Ice Spice Video Below
Check Out North West's Video to Ice Spice and PinkPantheress' "Boy's a Liar Pt. 2" Below
See the Definitive List of Bizarre Tweets From Rappers