Here's the Best André 3000 Verse Every Year Since 1994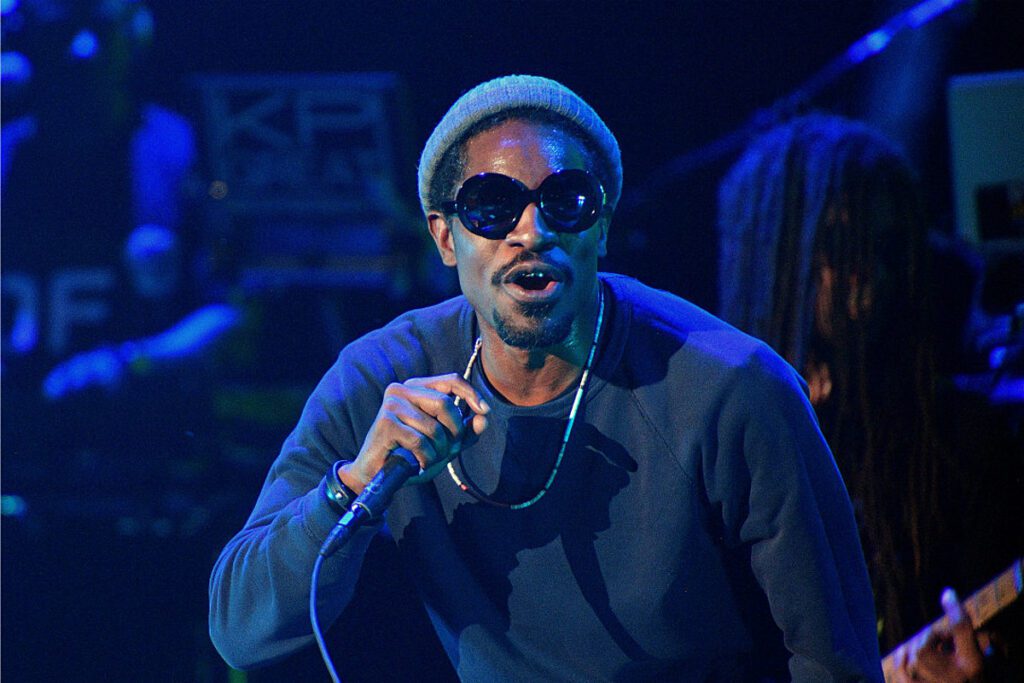 André 3000: the man, the myth, the legend.
As a member of OutKast, he, along with his partner in rhyme, Big Boi, has put out some of hip-hop's greatest music. The duo has been the purveyor of some of the most influential styles ever heard and seen since the early 1990s. Then, in the mid 2000s, following the release of the group's diamond-selling album, Speakerboxxx/The Love Below, and the subsequent Idlewild soundtrack, 'Dré unceremoniously said "Ight Imma Head Out," leaving the possibility of another group project in limbo.
Yet, he hasn't gone totally missing. On the solo tip, 3K has dropped some of the most revered feature verses of the last decade-plus, which, despite his lack of a solo project, have bolstered his stock enough to spur many hip-hop heads to put him on rap's Mt. Rushmore.
Dré's mastery of wordplay is uncanny. His grasp of pacing is awe-inspiring. His ability to paint pictures with words is virtuoso. Every verse leaves you wanting more. Yet, the illusive solo rap album everyone has been clamoring for remains a "what if" topic at work water coolers and weed cyphers.
These days, 3K only raps when he wants to. In June of 2023, 3000 appeared on the Killer Mike song "Scientists & Engineers" featuring Future, notching another song-stealing verse. The track has been nominated for Best Rap Song at the 2024 Grammy Awards. On Nov. 14, 2023, Dré announced he will be dropping his debut solo album New Blue Sun. Unfortunately for fans of the hermetic lyricist who have been waiting for the rapper to drop a rap album since forever, ever (ever, ever), the project will be entirely instrumental. No raps will be featured.
With news of a new 3 Stacks album on the horizon,  XXL dives into André 3000's solo and OutKast catalog to document his most eloquent verse each year since the release of the group's 1994 debut album, Southernplayalisticadillacmuzik.
[Editor's note: André 3000 did not appear on any released music in 2009 and 2022.]
"Git Up, Git Out," OutKast Featuring Ceelo Green (Verse Four)

1994

Southernplayalisticadillacmuzik-era André 3000 was raw. Stacks had yet to reach his ceiling lyrically on OutKast's debut album but still showed an understanding of his craft. On the motivational cut "Git Up, Git Out," the most poignant verse of his young career, 'Dré draws on his life experiences to prove the South got something to say.

"Thought Process," Goodie Mob Featuring André 3000 (Verse Five)

1995

The ability to perfectly purvey introspection is one of Benjamin's many glowing attributes and often-used cheat codes. The openhearted Goodie Mob track "Thought Process" is another early example of the Atlanta rhymer showing an uncanny candor and the standout offering of his sophomore season. The 16 was also harbinger of things to come, as 'Dré references two tracks on the then upcoming ATLiens album: "13 Floor" and "Elevators."

"Elevators (Me and You)," OutKast (Verse Four)

1996

On ATLiens, Three Stacks was finding his otherworldly flow, as he showed growth on the quasi-concept project that features standout verses on songs like "ATLiens," "Babylon" and "Wheels of Steel." However, he leaves Earth on the project's lead single. His closing verse is as important a 16 in the rapper's legacy as any, with Dré showing true progress as a wordsmith and narrator while remaining a man of the people.

"Everlasting," OutKast (Verse One)

1997

In 1997, OutKast was featured on the Nothing to Lose soundtrack, on a slept-on cut titled "Everlasting." André bats first and comes correct with a serious 16, displaying above-average wordplay punctuated with an effective monotone delivery.

"Da Art of Storytelling Pt. 1," OutKast (Verse Two)

1998

On the first of what has been four installments to date, André 3K introduces us to the tantalizing and sobering tale of Sasha Thumper. The vivid telling is yet another expert narrative that is one of the most remarkable renderings of 'Dré's career.

"Neck Uv Da Woods," Mystikal Featuring OutKast (Verse Three)

1999

With no album in 1999, 'Kast played the feature circuit and secured a banger on the Mystikal single "Neck Uv Da Woods." 3000 eats the pulsating production with a well-paced verbal presentation that serves as his most notable offering of the year.

"Ms. Jackson," OutKast (Verse Two)

2000

Another album, another creative concept. André is still snapping. Partially sung—an approach that would become a staple in 3000's repertoire—he flawlessly delivers the relatable and time-tested verse that features the "forever, ever" line that has become part of the hip-hop lexicon.

"The Whole World," OutKast Featuring Killer Mike (Verse One)

2001

By 2001, the entire planet knew about the Mighty O. Their greatest hits album, Big Boi and Dre Present…OutKast, dropped that same year, featuring a new track called "The Whole World" that contains one of the all-time best Three Stacks raps. The verse contains the comedic wit to which fans have now become accustomed. The track earned a 2002 Grammy for Best Rap Performance by a Duo or Group.

"Land of a Million Drums," OutKast Featuring Killer Mike and Sleepy Brown (Bridge)

2002

2002 was not an active year for the flute-playing lyricist. OutKast landed a spot on the Scooby Doo soundtrack and Dré provided the beat and bridge for the movie-themed offering "Land of a Million Drums" with Killer Mike and Sleepy Brown.

"A Life in the Day of Benjamin André (Incomplete)" André 3000

2003

The Love Below is mostly filled with love ballads and synthy soul cuts. On the final track, however, Three Bands returns to his roots. "A Life in the Day of Benjamin André (Incomplete)" is a masterpiece of narrative prose, finding the rapper dwelling on OutKast's beginnings and his past romance with Erykah Badu. With no chorus, the five-minute verse is even more of an impressive outing that deserves its day in the sun.

"I Can't Wait," Sleepy Brown Featuring OutKast (Verse One)

2004

André 3000 rings the alarm on the Sleepy Brown track "I Can't Wait" with slick bars, Southern charm and a nod to the infamous lawsuit over OutKast's "Rosa Parks" by the song's namesake. His delivery is effortless. The result is another body-bagged verse from the do-it-all MC.

"Junglebook," Easthero Featuring André 3000

2005

Benjamin André took it easy in 2005, offering up no rap verses for the calendar year. But he did make a noteworthy cameo on Easthero's "Junglebook. He belts out a soulful bridge on the impassioned cut.

"The Mighty O," OutKast (Verse One)

2006

André flexes his muscle on the OutKast track "The Mighty O," which is featured on the Idlewild soundtrack. Almighty A wreaks havoc on the busy track that serves as the top of his 2006 totem pole, edging out his contributions to Idlewild's "Hollywood Divorce" and Rich Boy's "Throw Some D's (Remix)."

"The Art of Storytellin' Part 4" Featuring Outkast and Marsha Ambrosius (Verse One)

2007

Sorry, "International Players Anthem." 3K's well-known verse from UGK's 2007 classic is not his best of that year. Honorable mention also goes out to remixes of DJ Unk's "Walk It Out" and Lloyd's "You." However, André 3000's strongest verse of 2007 goes to the fourth installment of OutKast's "Storytellin'," series, on which he straight blacks out over triumphant horns, offering vivid storytelling and dropping wisdom on your head top. Vibes unmatched.

"Royal Flush," Big Boi Featuring André 3000 and Raekwon (Verse Three)

2008

Ten years after collaborating on "Skew It on the Bar-B," OutKast reunites with Raekwon for the track "Royal Flush." André closes the track out with a multi-layered soliloquy that outshines his noteworthy verses on John Legend's "Green Light" and Fonworth Bentley's "Everybody" from the same year. The song earned a Grammy nomination for Best Rap Performance by a Duo or Group.

"Deuces (Remix)," Chris Brown Featuring Drake, Kanye West and André 3000 (Verse Four)

2010

The dawn of the decade featured Chris Brown nabbing three of the biggest names in rap for his "Deuces (Remix)." Again, André showed why he chooses quality over quantity, with an exquisitely paced verse that checks off all the boxes.

"Interlude" Featuring Tech N9ne and André 3000 (Verse Two)

2011

André 3000 goes head to head with another lyrical beast in Tech N9ne on Lil Wayne's Tha Carter IV cut "Interlude." The lyrical dexterity shown by 3000 is not even fair as he puts on a show that had people bringing up possible G.O.A.T. status.

"Sixteen," Rick Ross Featuring André 3000 (Verse Two)

2012

In 2012, André 3000 was reaching god level on the features: T.I.'s "I'm Sorry," Jeezy's "I Do" and Frank Ocean's "Pink Matter" were among the tracks Benjamin straight flamed. Yet his contribution to Rick Ross' "Sixteen" might be his Thanos moment. With much more than 16 bars to play with (see what they did there), André really puts on a free clinic on how to rap, with stank face inducing lines and plenty of "How he still so good? moments.

"Back to Black," Beyoncé Featuring André 3000 (Verse One)

2013

With no rap verses to speak of in 2013, André contributed a syrupy addition to the Beyoncé song "Back to Black" from The Great Gatsby soundtrack.

"Benz Friends," Future Featuring André 3000 (Verse Two)

2014

Three Stacks spent time doing a lot of things in 2014 that weren't making music. However, he showed up for Future with some straight fire on the Free Bandz rapper's sophomore album, Honest, which blazed the brightest that year.

"Hello," Erykah Badu Featuring André 3000 (Verse One)

2015

André 3000 is a third-degree black belt in rapping about relationships and interactions with the opposite sex. But his love lines hit different on this standout contribution from 2015, featured on Erykah Badu's mixtape, But You Cain't Use My Phone.

"Solo (Reprise)," Frank Ocean Featuring André 3000

2016

Frank Ocean gifted the reclusive 3000 with his own track on the 2016 album Blond. 3000 pays him back with his finest verse of the year, tapping into yet another one of his many unorthodox flows on the rambling yet satiating presentation.

"Rollinem 7s," N.E.R.D Featuring André 3000 (Verse Two)

2017

Dré puts on a verbal Powerpoint presentation on how to ride an unconventional track, tapping into a different mode on the N.E.R.D. gem "Rolliem 7s." Take notes.

"Where's the Catch," James Blake Featuring André 3000 (Verse Two)

2018

Another low-key year musically for André means slim pickings, but James Blake debuted a new track with the rapper late in the year that fit the bill. With a bit of an old André feel, the verse is rough, rugged and raw.

"Come Home," Anderson .Paak featuring André 3000

2019

Dre never fails to impress and only appears to be getting better. On Anderson .Paak's 2019 track "Come Home" from the rap-crooner's Ventura album, 3K blacks out over the refreshing .Paak and Jairus "J. Mo" Mozee-produced track in a master class of breath control.

"No Cigar," Goodie Mob featuring André 3000

2020

Dre joined forces with Goodie Mob in 2020 for the group's comeback album Survival Kit. 3 Stack's elite storytelling skills make an appearance, with the rapper weaving a striking narrative.

"Life of the Party," Kanye West featuring André 3000

2021

André 3000 used his rare rap appearance in 2021 to make a cameo on Kanye West's Donda album, via the song "Life of the Party." 3000 offers a sparkling sentimental verse, which serves as an open letter to Ye's late mother Donda.