Blueface Throws on a Wig to Troll Chrisean Rock in New Video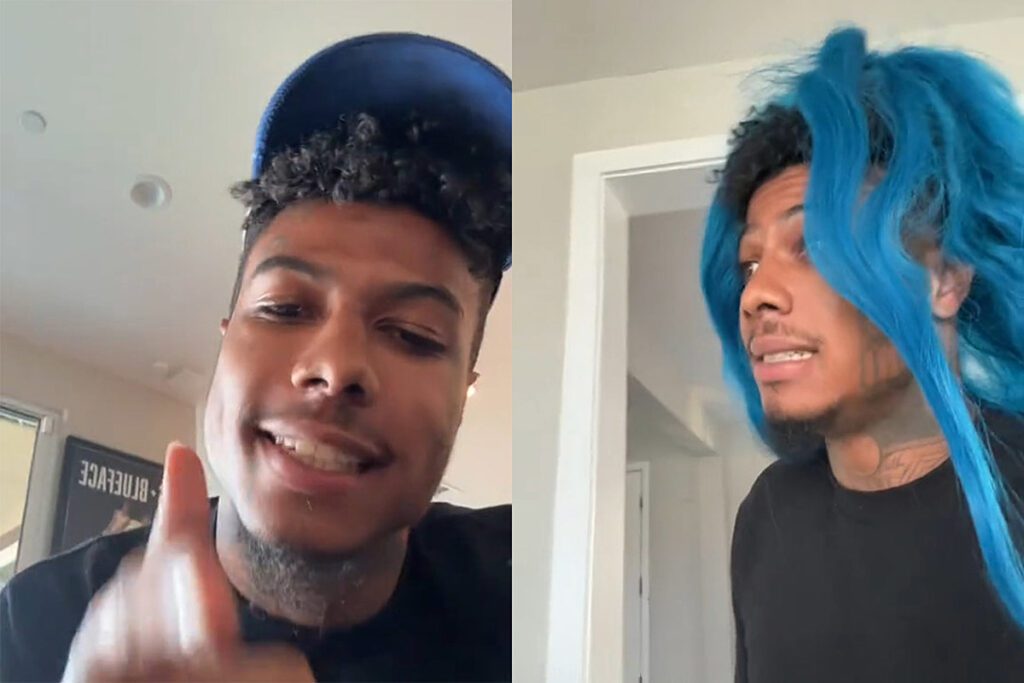 Blueface hilariously threw on a wig to troll Chrisean Rock, the mother of his soon-to-be-born child, in a new video online this week.
Blueface Trolls Chrisean Rock by Wearing Wig in New Video
On Tuesday (Aug. 16), Blueface hopped on his Blue Girls Club's TikTok page and posted a video of himself with a blue wig similar to Chrisean Rock's. In the five-second clip below, the 26-year-old rapper seemingly mentions the Baltimore rhymer's former infatuation with him. Shortly after, the video transitions to Blueface wearing a cobalt blue wig on his head and acting like Chrisean as a voiceover of the Baddies East reality tv star plays in the background.
"So it took something for you to get seven f**king tattoos," Blueface states in the video. "Right? You goofy b***h."
"Stop talking to me crazy," Blueface responds while playing as Chrisean Rock.
On April 17, Chrisean posted a video of herself on Instagram wearing a Hair Queen LA wig with variations of blue, which can be seen below. Since then, she's donned various jet-black wigs and braids.
Blueface and Chrisean Rock Get Into It on Their Reality Show Crazy in Love
On Sunday (Aug. 13), Zeus Network aired the fifth episode of Blueface and Chrisean Rock's reality show, Crazy in Love. In the latest episode of the series, the on-and-off couple get into a heated argument, and Blue claims that God put him in Chrisean's life so they can be together. In the snippet below, the Los Angeles rapper also alludes that he's the only reason she's successful.
After Chrisean Rock tries to defend her faith, Blueface asks if he came looking for her or if it was the other way around. Zeus Network is currently airing Crazy in Love's second season.
Take a look at how Blueface tries to shade Chrisean Rock below.
Watch Blueface Hilariously Throw on a Wig to Troll Chrisean Rock in a New Video
See Chrisean Rock Wearing a Blue Wig