XXXTentacion's Accused Killers Found Guilty of Murder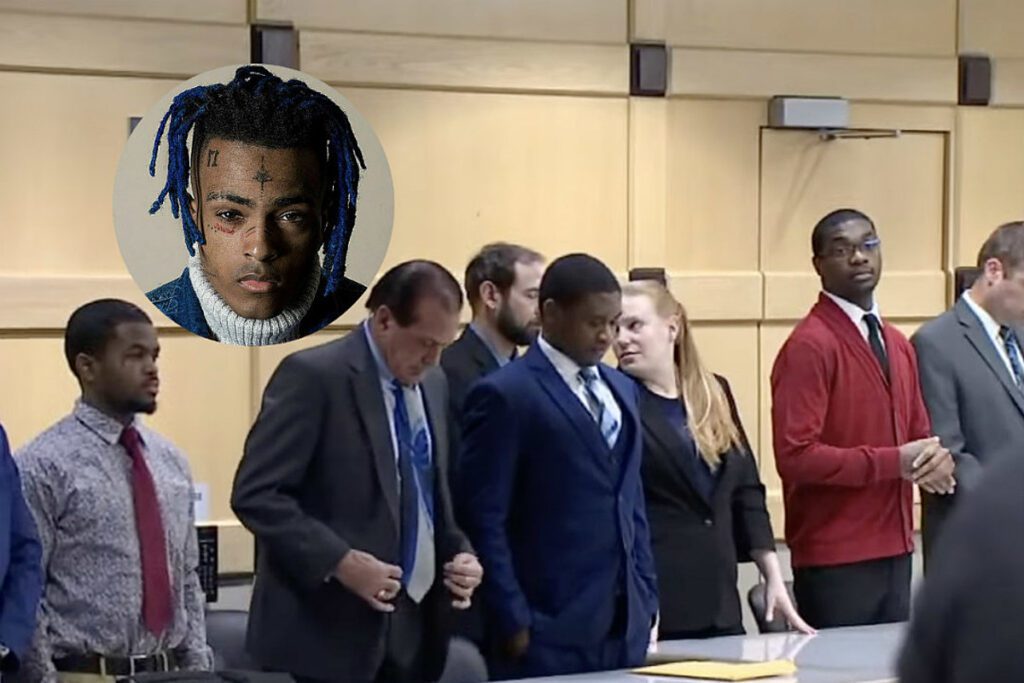 XXXTentacion's accused killers have been found guilty of first-degree murder.
On Monday (March 20), following a month-long trial, a South Florida jury returned a verdict of guilty on charges of first-degree murder for each of the three suspects, Michael Boatwright, Dedrick Williams and Trayvon Newsome, as it pertains to the 2018 shooting death of XXXTentacion. They were all also found guilty on charges of armed robbery with a firearm. They were immediately handcuffed by sheriff's deputies.
Prior to the guilty verdict, during the lengthy trial's closing arguments on March 7, lead prosecutor Pascale Achille recapped the events that occurred outside of Riva Motorsports in XXXTentacion's hometown of Deerfield Beach, Fla. on June 18, 2018, which ultimately led to the "Moonlight" rapper's death.
After referring to Boatwright, Williams and Newsome as calculated "predators," Achille played video footage for the jury, which, according to the prosecuting attorney, was recorded by the three defendants just hours after XXXTentacion was killed and showed each of the men dancing as they flaunted numerous $100 bills.
"This is who they are," said Pascale Achille according to Associated Press in her attempt to convince the jury that the aforementioned individuals did in fact kill XXXTentacion. "This is their real character. Killers that within 24 hours after shooting the victim dead and stealing $50,000 from him, this is what they do. Look at how happy they look. Look at how excited they look."
In the defense's rebuttal during the closing arguments, Trayvon Newsome's attorney attempted to explain to the jury that people flashing cash on social media is a common occurrence that shouldn't play a factor in convicting the suspects of murder.
"Do you hear anybody bragging?" the defense attorney said regarding the videos played during the prosecutor's closing arguments. "No, you hear music and you see guys doing stupid stuff with money—flashing it. If you go on the internet and look for people flashing money, you're going to see hundreds of people flashing money. It doesn't mean anything. Not unless you can link it to Trayvon Newsome knowing he's participated in murder and robbery and he's flashing the money. The evidence doesn't support that."
XXL has reached out to the attorneys representing Michael Boatwright, Dedrick Williams and Trayvon Newsome as well as state prosecutor Pascale Achille for comment.
Nearly five years ago, XXXTentacion, born Jahseh Swayne Onfory, was fatally shot during an armed robbery as he and his uncle, Leonard Kerr, were leaving Riva Motorsports in Deerfield Beach, Fla. on June 18, 2018. The South Florida rapper was also robbed of $50,000 in cash.
In the days that followed XXX's murder, an investigation led to the arrest of primary shooting suspect Michael Boatwright along with then-accused accomplices, Dedrick Williams, Trayvon Newsome and Robert Allen. After initially being charged with first-degree murder along with Boatwright, Williams and Newsome, Allen took a plea deal in August of 2022 in hopes of receiving a lesser sentence.
After pleading to second-degree murder, Robert Allen gave a full confession of his involvement in XXXTentacion's killing and testified against his codefendants at the onset of their trial last month. Allen claimed that despite being with Boatwright, Williams and Newsome when X was shot, he was against the robbery-turned-murder from the very beginning.
Robert Allen's testimony also helped to debunk the defense's attempt to imply that rappers like Drake, Ski Mask the Slump God, Migos and Joe Budden were potentially involved in a murder-for-hire plot against XXXTentacion.
The guilty verdict finds Boatwright, Williams and Newsome each facing mandatory life sentences. Their official sentencing hearing will be scheduled for a later date.
See Courtroom Footage of XXXTentacion's Killers Being Found Guilty of First-Degree Murder Below
See 44 of the Longest Prison Bids in Hip-Hop History
C-Murder, Max B, B.G. and more.