Migos, Joe Budden Brought Up in Questions in XXXTentacion Trial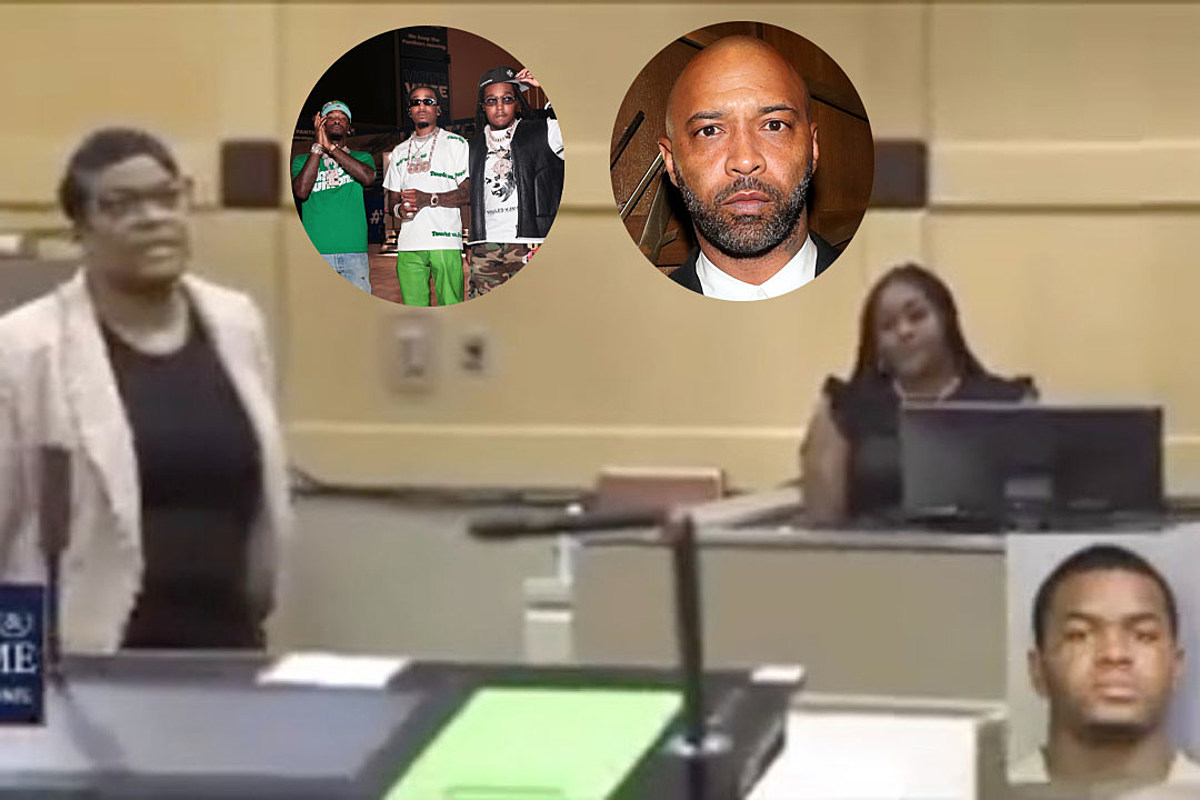 As the XXXTentacion trial forges on, the prosecution continues to attempt to discredit the defense's argument that rappers like Drake, Migos, Joe Budden and others had anything to do with X's killing.
On day six of the trial, Wednesday (Feb. 15), murder suspect Dedrick Williams's former girlfriend took the stand for the prosecution and testified Williams told her he was present for the robbery and homicide of XXXTentacion on June 18, 2018, saw the shooter and knew who the shooter was. From there, prosecutor Pascale Achille's line of questioning centered around squashing the defense's theory that a rap beef led to XXX's death.
"Did he ever tell you the shooting of [XXXTentacion] had anything to do with Drake?" Achille questioned at the 1:27:49-mark of Law&Crime Networks' livestream of the trial (below).
"No, ma'am," the woman answered.
"During anytime in your relationship, did Dedrick Williams ever mention anything about Drake? About Migos? About any Toronto connections? About anybody named DJ [Akademiks]? About any other rappers or Joe Budden? Did he mention any of those people?"
The woman gave a swift "no" answer to all questions involving anyone in the rap industry being brought up by Williams in connection to the crime.
This is the second day in a row that Achille has questioned a witness about the defense's claim that a rap beef is what sparked XXXTentacion's death and not the robbery and shooting that his clients are being accused of. On Tuesday (Feb. 14), Achille questioned suspect-turned state's witness Robert Allen about if there is any Drake connection to XXXTentacion's death.
"Did anybody connected with Drake that you're aware of hire you to do the crime of killing and robbing the victim on June 18, 2018?" questioned Achille, to which Allen replied "no."
Michael Boatwright, Dedrick Williams and Trayvon Newsome are accused of robbing and killing XXXTentacion outside RIVA Motorsports in Deerfield Beach, Fla., with Boatwright being accused of firing the fatal shots. Robert Allen, who was also arrested in connection with the crime, pleaded guilty last August and is currently testifying against his codefendants.
Dedrick Williams' defense lawyer Mauricio Padilla has been trying to convince the jury that Drake or beef with another rapper could have played a hand in XXXTentacion's death, citing lyrics and a 2017 social media post from XXX that reads: "If anyone tries to kill me it was [Drake]." Padilla pushed for weeks to have Drake sit for a deposition and answer questions about to case to no avail. Boatwright, Williams and Newsome face life in prison if convicted of first-degree murder.
See the Livestream of Day Six of the XXXTentacion Trial Below
See Rappers We Lost in the 2010s