J. Cole Goes to the Projects, Hears Aspiring Rapper's New Song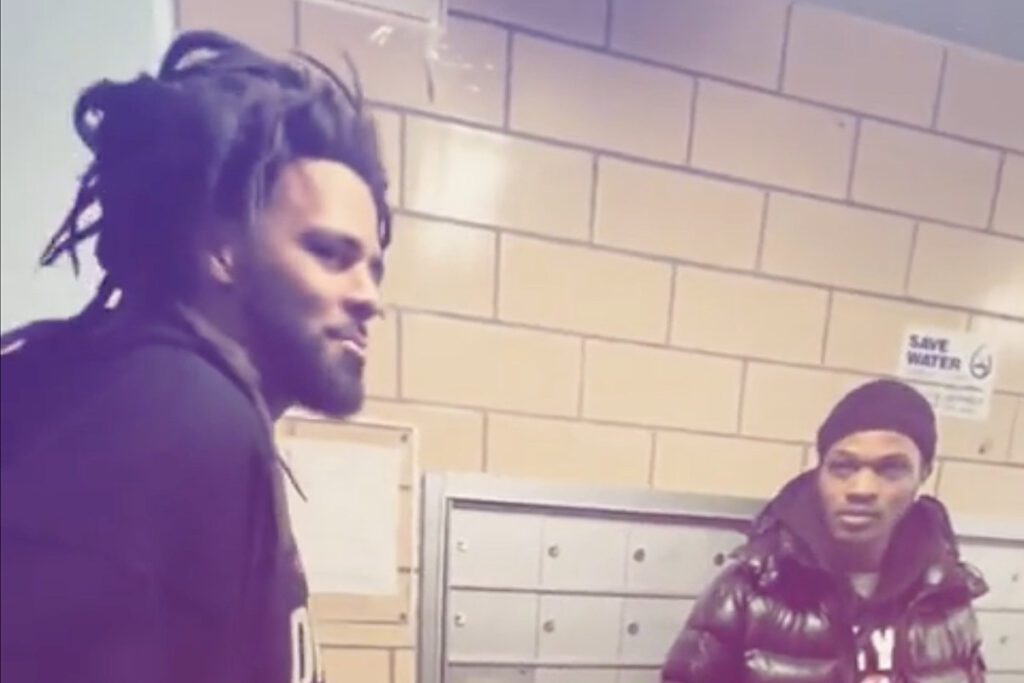 J. Cole is not afraid to go to the hood to hear an emerging rap artist's music. The North Carolina rapper was recently spotted in the projects listening to an aspiring rapper's new song.
On Wednesday (March 22), an up-and-coming rapper named Ty Trilly posted a video on his Instagram page of J. Cole hanging out in what appears to be inside a project building in Queens, N.Y., listening to his new song called "Adapt." In the clip, Cole is listening intently to Trilly's hardcore lyrics about his tough upbringing in the streets of New York. The booming beat is pounding inside the lobby of the rapper's apartment building while everyone is nodding their heads.
Trilly then tells Cole that he has to add a second verse to the song, but the Dreamville Records honcho immediately tells him it's not necessary.
"You don't even need it, n***a," he tells Trilly. "Shoot the s**t, put that b***h out, next! 'Cause they gon' feel it. And they gon' feel the next one, I swear to God."
"I know what you mean like, 'Man, I probably need a second verse,'" he continues. "No, n***a. Just that! Shoot the video, put that b***h out, it's gon' land on the people it's supposed to land on."
"I'm f**kin' with it," Cole adds before the video ends.
"Cole pulled up on me To hear my new shit , No Meetings in the city straight Raw block shit , appreciate You @realcoleworld , It's up From Here !!" Ty wrote in the caption of the video.
This a major look for the Ty Trilly who has 3,741 followers on his Instagram account.
J. Cole has always been supportive of the up-and-coming rappers and producers in the music game.
It looks like J. Cole is out here blessing young artists with his presence, influence and advice. Salute.
Watch J. Cole Listen to Ty Trilly's New Song "Adapt" Below
Listen to Ty Trilly's New Song "Adapt" Below
See 50 of the Most Clever Hip-Hop Lyrics