Finesse2Tymes Says He's Dating Three Women at the Same Time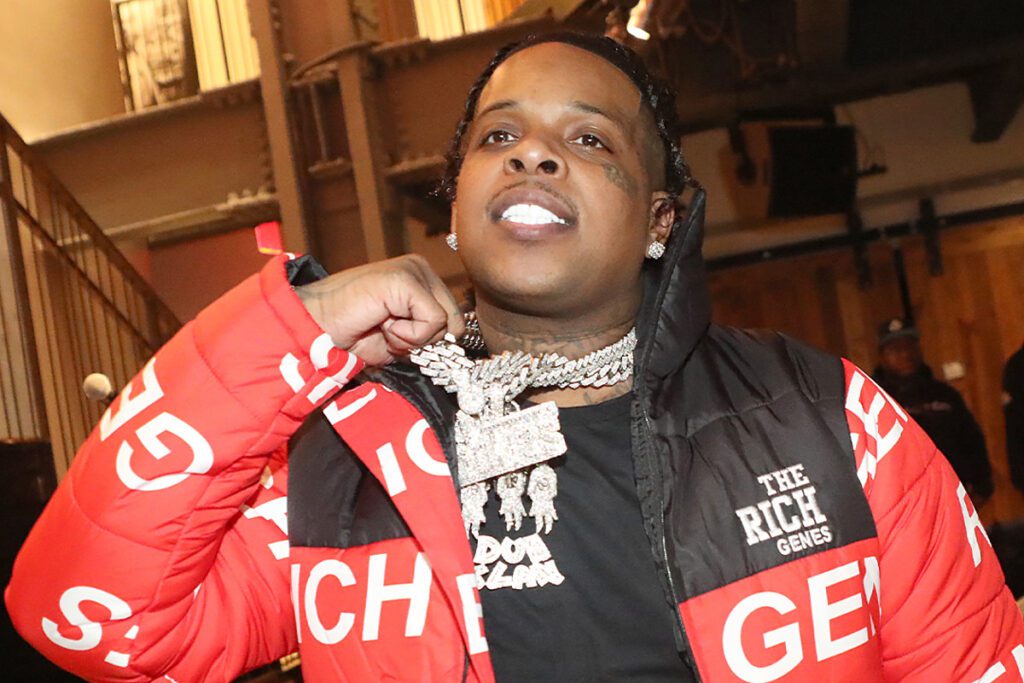 Finesse2Tymes might have to increase his name by one number as the Memphis rapper says he is dating three women at the same time.
On Tuesday (March 14), Finesse2Tymes joined the hosts of Angela Yee's Lip Service podcast for a round-table discussion on the time he's served in prison, becoming a fast-rising star in hip-hop and of course, romance, which the salacious show has become known for. To that point, Finesse2Tymes made an interesting revelation regarding his current relationship status—it includes three women all at once.
"I got a situation," replied Finesse2Tymes when Angela Yee inquired about his love life at the 2:54-mark in the video below. "You know, I'm in a polygamy, like, I gotta have more than one woman."
Yee immediately asked Finesse how many women he was referring to and whether or not they know about each other. The "Back End" spitter explained that he and "three" women currently "stay together."
Finesse2Tymes then expanded upon his approach to polygamy when one Lip Service host asked about how he went about presenting the situation to each of the three women involved.
"I ain't gone lie, one of 'em, well, two of them, I did it wrong," confessed Finesse. "I kinda just threw it on 'em. Like, 'This is what it is. I accept what come with you, you gonna accept what come with me.'"
The seasoned interviewers then wanted to know how the women first reacted to Finesse2Tymes telling them about being involved in a polyamorous arrangement.
"It was like an 'aw' moment but at the same time, I'm such a gentlemen and ladies' man, it was kinda easy," Finesse casually explained. "I done had all of them tell me this separately. They like, 'It's kinda easy to accept what come with you because you so humble and so, you know, down to Earth. It's kinda easy. I don't ask for nothing but help from my women anyway."
He later added to the topic: "I felt like it was weird at first like, 'Ain't no woman gonna accept that.' But I thought about my past life and like, women ain't gonna accept that but it's a difference between being a h*e and a woman. A h*e gonna accept it because it's they job to accept other h*es but it ain't no woman's job to accept other women. So, for me to present that, it was kinda weird."
After Finesse2Tymes explained that all three of his lovers came to easy terms with being involved in the multiple partner situation, things on Lip Service became even more lively. The discussion quickly turned to sex and what Finesse's situation is like when it comes to the bedroom. The Memphis rhymer divulged that since his arrangement is, in fact, a relationship, he as well as the three women are only sexually active with himself and each other.
Finesse2Tymes and his love life have been a steady topic of conversation throughout the rap game in recent days. News of his polyamorous relationship with three women comes just days after Finesse spoke on why he broke up with "Buss It" rapper Erica Banks.
"I'm a man, so when I wake up in the morning and me and my woman…when I get up, my woman get up because it's time to cook, it's time to have some sex, it's time to clean up," said Finesse2Tymes in his explanation of why things between he and Banks didn't work out. "And when you get up and you get in your phone, I don't like that. Don't get straight in your phone when you're around a man."
In response to his claims, Erica Banks opined that Finesse was looking for more of a "servant" than a partner but that wasn't the type of time she was on regarding romantic relationships. Days later, on March 12, Erica Banks explained that when it came to sex during their time together, Finesse2Tymes wasn't exactly what she was "used to" in the bedroom but "it was cool."
Watch Finesse2Tymes Explain What It's Like Dating Three Women at the Same Time on Angela Yee's Lip Service Podcast Below
See the Definitive List of Bizarre Tweets From Rappers