Blueface Implies He's Been Catfishing Lil Baby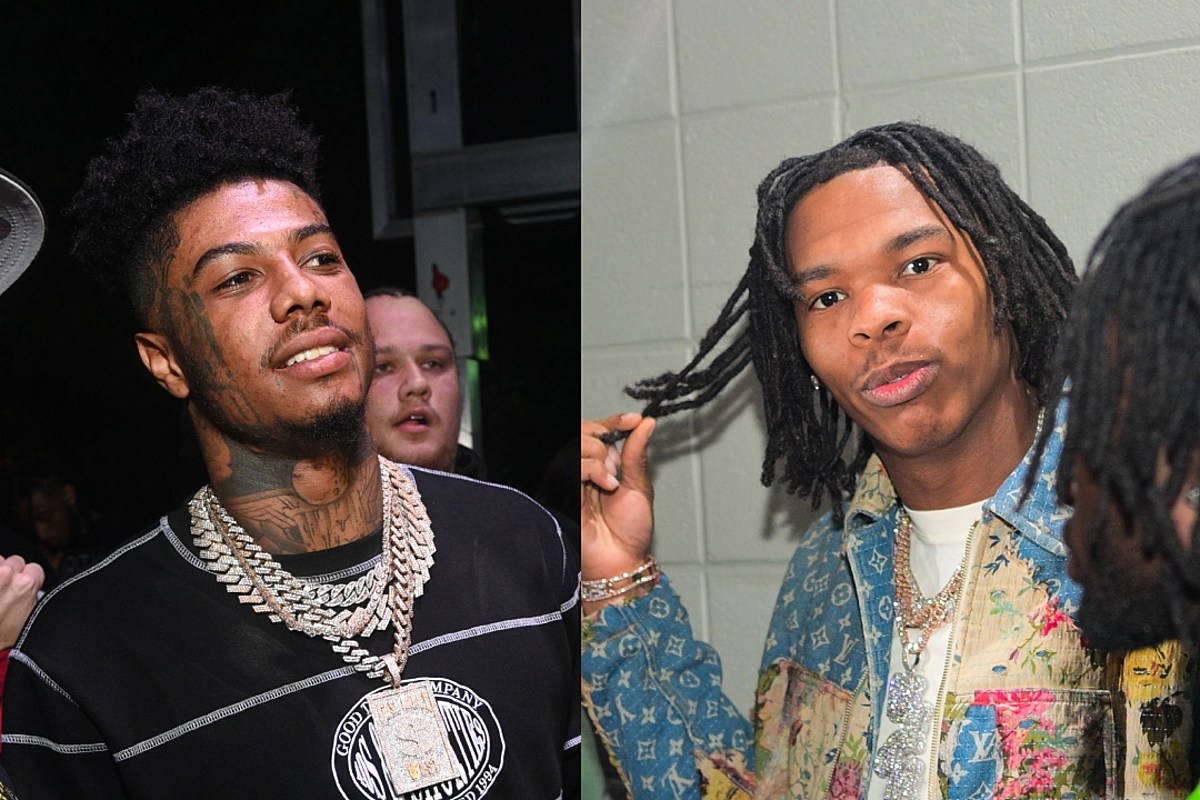 Blueface is implying he's been catfishing Lil Baby.
On Monday (Feb. 20), Blueface went on a Twitter rant, attempting to expose Lil Baby for texting his girlfriend(?) Chrisean Rock. In one tweet, Blueface implied that Lil Baby was instead texting Blue when Baby thought he was reaching out to Chrisean.
"Ain't even have to go thru the fone," Blueface tweeted. "Rock gave cuz my number he been texting me the whole time [crying laughing emoji]."
The latest tweet comes after Blueface spent time this morning calling out Lil Baby for allegedly texting Chrisean, sharing a screenshot of the alleged texts in one post.
"It's baby," the first text message reads.
 "Why people saying I was in your DM [crying laughing emojis]," the second text says. "Why you ain't tell them I'm a big brother. I hate shit like that."
Blueface captioned the post: "Met my bitch one time talm bout he 'big brother' [crying laughing emoji] You ain't no son to me the truth could never be a dis."
In follow-up tweets he added, "I run this shit on sy be mad if you want to bitch post my messages I'm bleeding anything come thru my Territory without checking In welcome to death row."
"You in her DMs I'm in this bitch fone on sy cryp," he continued, which appears to contradict his claims of Lil Baby texting his phone instead of Chrisean's.
Blueface added, "Anything that makes rock boom I'm all for it even if I gotta look bad. I ain't bring her to the top for you niggas to play fake big brother an fake like you want to work for a picture or some pussy let's do business or move around it's very simple I invested in this long time ago…You wanna work with rock call blue or Im bleeding you unprofessionally every time."
Blueface publicizing Lil Baby's alleged tweets to Chrisean comes after the couple had a conversation on Instagram Live over the weekend about Chrisean meeting the Atlanta rapper during Super Bow weekend in Arizona. Chrisean told Blue that Lil Baby told the aspiring artist she had "potential," which Blueface seemed to take exception to.
"Potential to what? Fuck him?" Blueface questioned on the Instagram Live video.
"It was an empowerment conversation," Chrisean countered.
"Y'all had an empowerment conversation at 5 a.m.?" Blueface asked her before the video ended.
While it is unclear if Blueface and Chrisean are technically even a couple after Blue announced their split last month, they are carrying on like they are still together. Last week, Blueface appeared to get mad when Chrisean took a photo with Rick Ross during Super Bowl weekend, which triggered a scathing back-and-forth between Blue and Chrisean on Twitter.
See the Definitive List of Bizarre Tweets From Rappers