The Break Presents – Gloss Up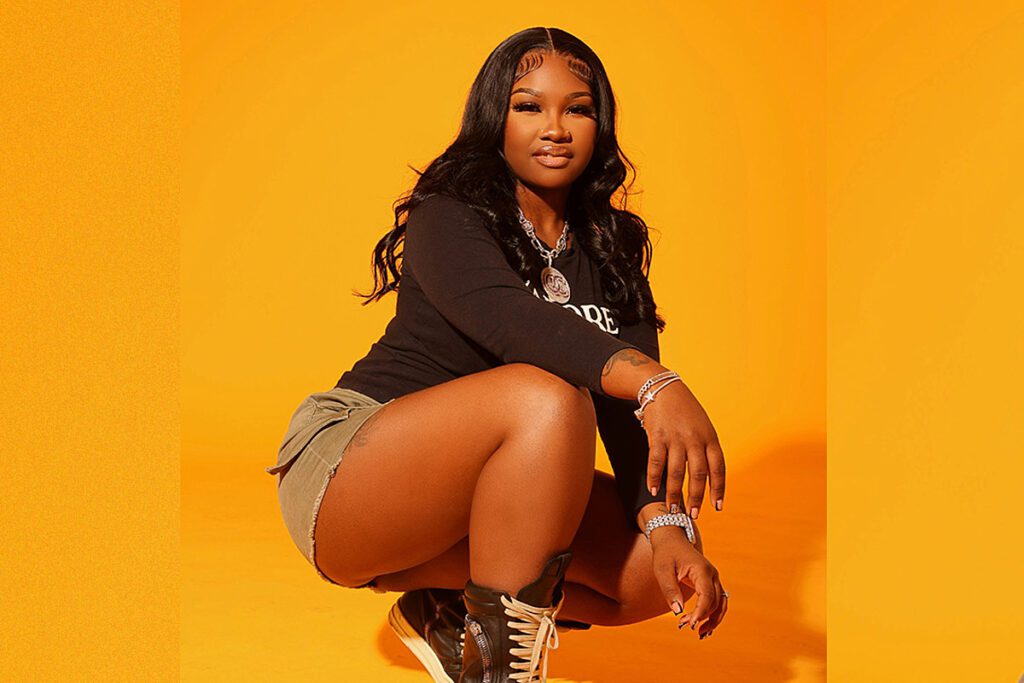 Memphis has the rap game on lock right now. Though it's always been a key market for hip-hop, over the last few years the city has credibly bred more distinguished acts than ever before, which in return has made the demographic's juiced-up sound king across the music industry. 25-year-old Gloss Up has been a major part of that scorching movement as of late. Through solo records like "Alone," posse cuts like "Shabooya" and collaborations like "Real Bitch" with her labelmate Lakeyah, the Quality Control signee continues to bloom as a heavy hitter of the new generation with millions of fans and streams to match.
Dating back to her adolescent days, Gloss Up was mostly shielded from hip-hop at first by her mom. As a teenager, she started discovering the genre on her own, listening to acts around her age like The Rap Game alumni Latto, Young Lyric and Supa Peach. Eventually,  Gloss started recording herself in the bathroom or closet and uploading the results to SoundCloud. She also joined a rap group with some other women around the city. Together, they released a remix of Reggie Kush's "Guns on Deck," and that iteration amassed enough streams and likes on Facebook to give a young Gloss the confidence she needed to keep going.
In the subsequent years, Gloss continued to pursue her dreams of becoming a respected artist. She released projects like 2018's Raw Gloss, 2019's Different Shades of Gloss and 2020's Quarantine EP to let the people know who she was and what she brought to the table artistically. The ante was upped in 2021 when she met Hitkidd at a local talent show. The platinum-selling producer drew up a play to align Gloss with some of the other dope rappers in the city, such as Aleza, Slimeroni, K Carbon and Gloss' soon-to-be best friend GloRilla. The newly certified ensemble went viral with songs like "Set The Tone," which was housed on their collaborative project of the same name in September of that year.
By 2022, the dominoes were falling. The unit's record "Shabooya" caught fire on social media to the point where it's now on the way to going gold. Gloss also signed with Quality Control. Her label debut Before The Gloss arrived in January of this year and is led by songs like "Bestfrenn" with GloRilla, "Mad 304" with Hitkidd and "From Cross Da Way" featuring Icewear Vezzo. Even with all of that motion in a short period of time, Gloss' foot has still been heavy on the gas. Her output in the last few months consists of collaborations with Sexyy Red ("Check") and K. Michelle ("Wherever the D May Land"), as well as another standout loosie called "Lala."
So what's next for her? For starters, fans should be pleased to know that a new project is in the works. Gloss will also be taking off on tour with Lil Baby come July. Before it all, she pulled up on this week's episode of The Break: Live to talk about a collab tape with Big Glo, guidance from Pierre "P" Thomas, the making of "Shabooya," releasing more music and much more. Check out the interview below.
Follow Gloss Up on SoundCloud and Instagram.
Standouts:
"Check" featuring Sexyy Red
"Bestfrenn" with GloRilla
"Alone"
Hitkidd's "Shabooya" with Gloss Up, Aleza, Slimeroni and K Carbon
Before The Gloss Up
See the Guide to Rappers Touring in 2023