T.I.'s Sons Create Music But There's a Stark Difference in Styles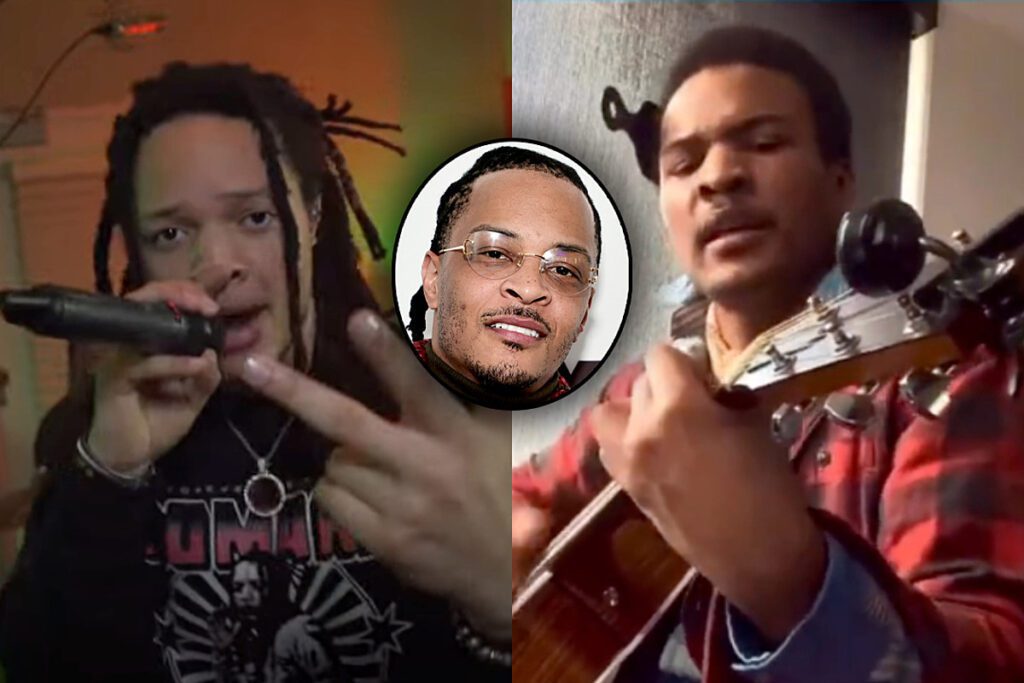 T.I.'s sons, Domani and Messiah Harris, both create music but there is a stark difference in their respective styles.
Through the years, hip-hop has seen its fair share of rappers handing down their mic skills to their children. Rev Run's son, Diggy Simmons, is a former XXL Freshman and Lil Eazy E just recently dropped an album alongside Daz Dillinger aptly titled The Legacy. So, it should come as no surprise that T.I.'s two eldest sons, Domani and Messiah, are following closely in their father's footsteps. However, what may be a bit of a shock is that when it comes to actually making music, the Grand Hustle boss' kids have styles that can be considered completely opposite from one another.
Staying close to his dad's hip-hop roots, Domani Harris is a rhymer who has been steadily working to carve out his own lane in the rap game for years while remaining true to his lyrical bloodline. Back in 2018, Domani cited T.I. as his primary inspiration for becoming a rapper.
"I fell in love with music when pops got out of [jail]," Domani said during an interview for XXL's The Break. "When I was in the studio with him, seeing him making this music, and then when it finally got out, seeing how the people took it, how it affected the world, I fell in love with it. I realized my voice could travel so far."
Last fall, Domani linked up with his multi-platinum-selling father as he and T.I. performed together at an Atlanta Hawks basketball game in what the younger Harris described as a "bucket list moment," according to Fox 5 Atlanta. Domani's latest single, "Hi-Ya!" was produced by Wheezy Outta Here and has raked in 180,000 views on YouTube since it dropped earlier this year.
On the flip side, T.I.'s firstborn son, Messiah Harris, displays an equal admiration for both music and his father's legacy but has seemingly chosen to take the route of a more traditional singer-songwriter.
In between writing original songs such as "1958" that tend to fall within the country and blues genres under the stage name Buddy Red, Messiah often wows followers with social media jam sessions displaying his musicianship with various instruments like the electric guitar he affectionately named "Sofia." Last month, a video clip of Messiah covering an acoustic version of "Give a Little Bit," made famous by classic rock band Supertramp, made its rounds across the internet much to the pleasure of those who didn't necessarily know T.I.'s eldest boy could strum and sing quite like that.
While the videos posted below highlight the stylistic contrast between the music both Domani and Messiah Harris create, the brothers, along with their father T.I., certainly consider their passion for the industry a family affair. In fact, Messiah produced the beat for "Family Connect," a track that finds T.I. and Domani rhyming together on Tip's 2020 album, The L.I.B.R.A. In addition to that, Messiah has gone so far as to hit up TikTok to lay down some heavy blues riffs on top of Domani's recent single, the aforementioned "Hi-Ya!"
Domani and Messiah's mother, Lashon Thompson, is also heavily involved in the family business as she serves as the management over both of her sons' music careers. The self-described "momager" has been hard at work on social media promoting an upcoming show in Atlanta dubbed The Sesh, which will feature performances for both of the Harris brothers on April 20.
Listen to the Difference in Music Styles Between T.I.'s Sons Domani and Messiah Harris in the Videos Below
See Rappers You Didn't Realize Were Related