Quavo, EST Gee, Boosie BadAzz and More – New Hip-Hop Projects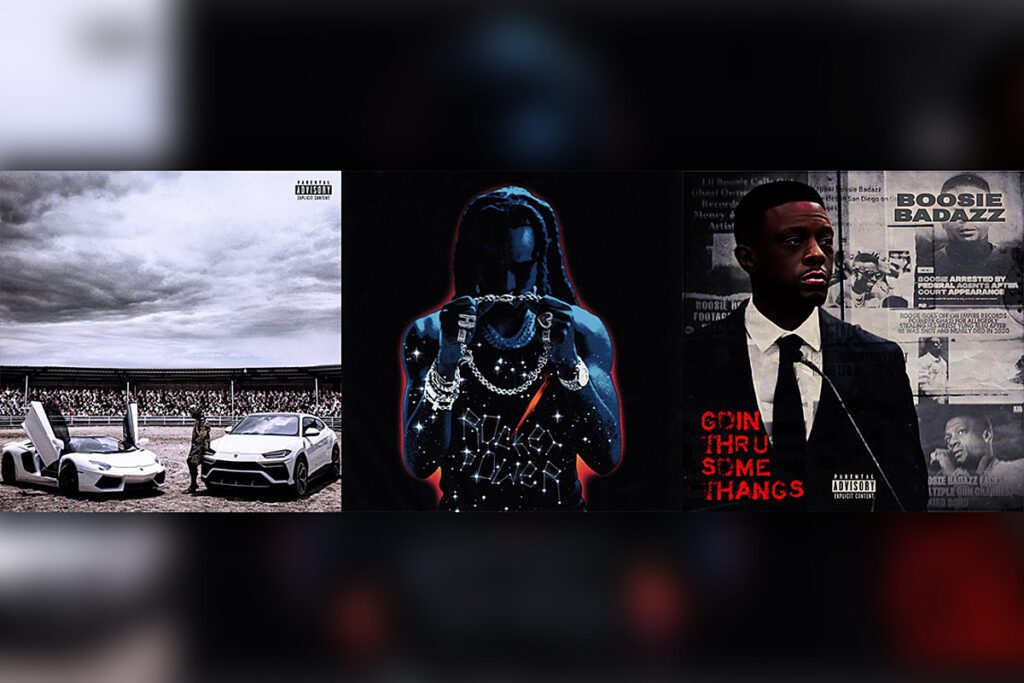 As we are moving through the dog days of summer, hip-hop continues to release got new music. This week, a Migos member pays tribute to a fallen comrade, a Kentucky rapper releases a sequel to his 2019 mixtape, a Louisiana rhymer details his legal troubles on his new project and more.
Quavo Releases Rocket Power, His Tribute Album to Takeoff
Nine months after Takeoff's tragic death, Quavo pays tribute to his beloved nephew with his new album, Rocket Power. Leading up to the release, the Migos rhymer dropped a YouTube video called "A Conversation for the Fans."
In the black-and-white visual, Quavo spoke candidly about how his nephew Takeoff's death has affected him. The Atlanta rapper said he is still mourning for him and often cries himself to sleep thinking about the late rapper's death.
"I think about him all the time," he revealed. "Sometimes I cry myself to sleep, you know, and that's it. I just know he's here. I know that if I can't feel him I just know he's around."
Additionally, Quavo released a trailer for Rocket Power. In the 90-second clip, the 32-year-old rapper stands in front of a rocket ship as it prepares to take off. Quavo holds up a spacecraft-themed necklace while wearing a Takeoff T-shirt. Takeoff was tragically shot and killed in November of 2022.
EST Gee Drops Third Project of the Year, El Toro 2
EST Gee returns again in 2023 with El Toro 2, a project that serves as the sequel to his 2019 debut mixtape, El Toro. The new tape is just the latest example of a particularly active year for the Louisville, Ky. spitter, as it follows his Young Shiners compilation, Shiners Are Forever, and his solo LP, MAD, which were released in July and March, respectively. Prior to unveiling the project's cover art earlier last week, EST Gee dropped El Toro 2's lead single, "Turn the Streets Up," which was produced by ForeverRolling and has garnered over 2 million Spotify streams since it was released back in May.
Boosie BadAzz Details His Legal Plight on Goin Thru Some Thangs
Boosie BadAzz is going through it. So, to get through his trial and tribulations, Baton Rouge, La. rap veteran is going to let his music do the talking. On his new project Goin Thru Some Thangs, Boosie details his legal plight and life struggles he's been dealing with in the last couple of months.
On the opening track "Ungrateful," Boosie expresses his frustration with people who have been ungrateful for his generosity and support. He also spits lyrical shots at Kodak Black and questions his street cred after doing a collaborative song with 6ix9ine who he deemed "a rat."
Other songs like "No Lies Told" and "Broken Inside," Boosie addresses his legal situation and the rumors that have been spread about him.
For those who don't know, Boosie was arrested on federal gun charges on June 17, 2023, in San Diego, Calif. According to court documents, the rap veteran was captured on his IG Live filming a music video in a known "Neighborhood Crip" gang area with a handgun in his waistband.
Boosie tried to have the gun case thrown out but a judge in San Diego, Calif., denied his motion and his case will most likely go to trial.
Hopefully, Boosie BadAzz will be able to put his legal troubles behind him and keep cranking out more albums.
Check out other new projects this week from Russ, Lil Zay Osama, Mick Jenkins and more below.
Quality Control

Quality Control

Goin Thru Some Thangs

Boosie BadAzz

Bad Azz Music Syndicate

Bad Azz Music Syndicate

Dame D.O.L.L.A.

Don D.O.L.L.A.

Front Page Music

Front Page Music

Vedic Vape Room

Killah Priest

Proverbs Records

Proverbs Records

Wish You Were Here

Dro Kenji

Internet Money / 10K Projects

Internet Money / 10K Projects

The Patience

Mick Jenkins

RBC Records/BMG Rights Management

RBC Records/BMG Rights Management

4 The Trenches

Lil Zay Osama

Third & Hayden

Third & Hayden

1st Lady 3 – EP

Childish Major

Humility City Records/Ebony Son Entertainment

Humility City Records/Ebony Son Entertainment