Ice Spice's Lyrics Become Parody in Donald Trump SNL Skit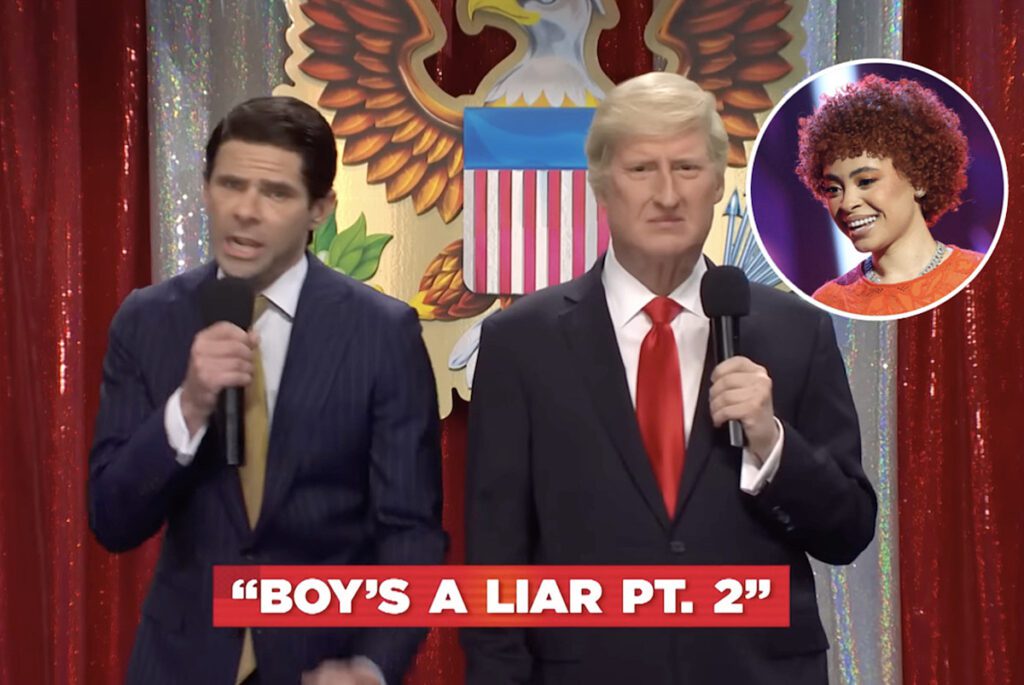 Donald Trump's recent indictment got hilariously parodied during Saturday Night Live's cold open last night.
On Saturday (April 1), the late-night sketch comedy series Saturday Night Live used Ice Spice's lyrics to poke fun at Donald Trump who was indicted by a New York grand jury last week stemming from his alleged role in a hush money payment scheme involving adult film star Stormy Daniels that dates back to the 2016 presidential election.
In the skit, Donald Trump, played by SNL's James Austin Johnson, announces that he's been indicted and is ready to turn himself in.
"It's time I come clean and admit I broke the law and go quietly to prison," Trump said before announcing, "April Fools!"
Trump added he needs money for his legal defense so he's promoting his two fictitious covers album, jokingly titled NOW That's What I Call My Legal Defense Fund and Trump Bopz, which feature 30 cover songs all sung by him. Among the tunes on the albums include the Kenny Rogers/Dolly Parton classic "Islands in the Stream," which Trump sang with Don King, played by SNL co-star Kenan Thompson, and a warbling version of Alanis Morissette's "Ironic."
Trump then introduced his "most loyal supporter," his son Donald Trump Jr., played by Mikey Day.
"This is really emotional. It might be the last time I see you," Trump Jr. said.
"From your mouth to God's ears," Trump jokingly replied, before the duo broke into a goofy rendition of Ice Spice and PinkPantheress' viral hit song, "Boys a Liar Pt. 2."
Afterward, Trump sung the praises of the Bronx baddie.
"We love Ice Spice," he said. "Beautiful hair, beautiful hair."
You can watch the hilarious SNL skit below.
Watch Ice Spice's Lyrics Get Parodied in a Donald Trump SNL Skit Below
See Rappers' Confusing Lyrics