Greatest Hip-Hop Album Covers of All Time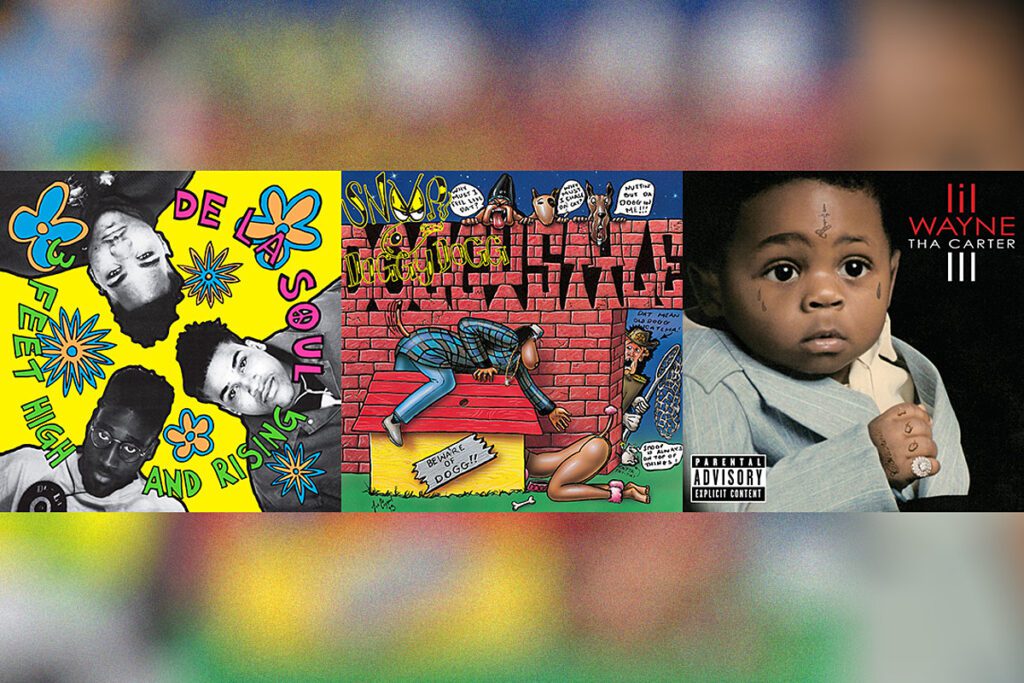 XXL celebrates 50 years of hip-hop with this feature.
When it comes to the essence of an album, oftentimes the cover art is just as captivating as the music. Since the popularization of hip-hop in the late 1970s and 1980s, rappers have supported their artistry with eye-catching imagery. As a result, many album covers have become iconic contributions to the culture.
Eric B. and Rakim's famed 1987 Paid in Full artwork depicted a luxury-themed collage. The cover art displayed the swanky rap duo centered around an enlarged wad of cash, which was arguably glitzy for its era. At the end of the decade in 1989, De La Soul's 3 Feet High & Rising cover image showcased an original work of art, with colorful hand-painted designs alongside a grayscale group portrait. The artwork truly captured the progressive psychedelic sound of its time.
As hip-hop shifted from golden age rhymes to flashy wordplay, album covers became bolder. The 1990s were all about statement pieces, from Snoop Dogg's controversial Doggystyle illustration in 1993, to Lil' Kim's famously daring Hard Core photograph in 1996. Artists were seemingly unapologetic about their project's graphics, even if it sparked discourse. In the late 1990s, DMX raised eyebrows with the Flesh of My Flesh, Blood of My Blood album cover. The 1998 artwork is a strikingly gory image of the late rapper appearing shirtless with his arms outstretched in a bathtub as he's covered in blood. Till this day, it is one of the most memorable album covers.
A few years into the new millennium, 50 Cent's bullet-cracked Get Rich or Die Tryin' depiction became a staple in 2003. Likewise, the tattooed baby face on Lil Wayne's Tha Carter III is a 2008 classic. Fast-forward to more recent years, Kanye West, Kendrick Lamar, Drake and many more have pushed the boundaries of artistic expression through cover art. Along with an artist's discography, artwork can also be a notable part of their legacy. With that in mind and in light of rap's 50-year anniversary this summer, XXL takes a look at the greatest album covers from different eras within the genre. Check out the full gallery below.—Allison Hazel
See 50 of the Greatest Hip-Hop Album Covers