Drake Calls Out Kanye West on New Song 'Red Button'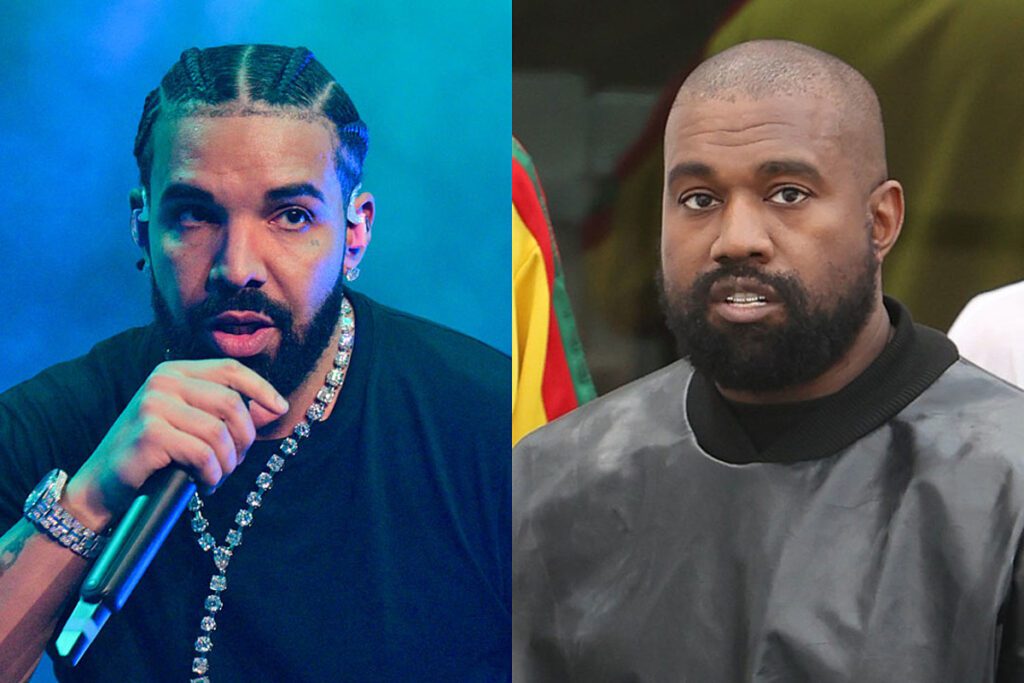 As promised, Drake released For All the Dogs: Scary Hours Edition, the deluxe version of his FATD album. On the first track "Red Button," the Toronto rapper name-drops Kanye West and mentions their strained relationship as frienemies.
Drake Calls Out Kanye West on "Red Button"
On Friday at midnight (Nov. 17), Drake called out Kanye for his fake attempts at mending their friendship. "Every time that Yeezy call the truce, he had my head inflated/Thinkin' we gon' finally peace it up and get to levitatin'/Realize that everything premeditated," Drizzy raps on "Red Button."
Drake announced in the early morning hours of Thursday (Nov. 16) that he would be releasing Scary Hours 3 at midnight tonight. Shortly before the deluxe version of his For All the Dogs album arrived, he released the six-song tracklist and revealed the producers: The Alchemist, Conductor Williams, Boi-1da, Vinylz and Ovrkast.
Drake and Kanye West's Beef Explained
Five years ago, Drizzy and Ye's beef began over Kanye's "Lift Yourself" beat, which the latter told Drake he could have. Drake told his side of this story on LeBron James' The Shop in 2018. That same year, Ye invited Drake to Wyoming where he thought he would record on the beat, but started to realize something was off. Drake admitted he confided in Ye about his son, Adonis, showed him a photo of the child and even spoke about the issues he was having with Adonis' mother. Apparently, Kanye was using the information as ammunition. Ultimately, the G.O.O.D. Music founder kept the track for himself and added the silly lyrics of "Poopy-dee scoop/Scoop-diddy-whoop" all over it when it was released. Drake thought the lyrics were "nonsense." And so the beef started.
What followed is Pusha T making note of Drizzy's past ghostwriting drama on "Infrared," which Ye produced. Drake fired back with the "Duppy Freeestyle" diss. Then Kanye apparently told Pusha about Adonis, which became the fodder for the diss track "The Story of Adidon," in which Push told the word Drake was hiding a child.
However, in 2021, they squashed their beef when Kanye posting a surprising photo to his Instagram page. The image showed Ye, Drake and J Prince together, seemingly confirming their beef was done. They supposedly had dinner together at Drake's house.
More jabs were thrown when Drake rapped "I did that s**t for J Prince" on the Her Loss track "Circo Loco" in 2022. The line seemed to insinuate Drizzy only made nice with Ye for the Rap-A-Lot Records founder.
Last year, Kanye also went on Drink Champs and called Drake the "greatest rapper ever." However, he also claimed that Drizzy leaned into rumors that he had an affair with Ye's ex-wife, Kim Kardashian.
Check out Drake calling out Kanye West on "Red Button" and his new album below.
Listen to Drake's "Red Button" and For All the Dogs: Scary Hours Edition
See Rappers' Most Wildest Insults They've Said During Beefs