DDG Posts Video Showing Halle Bailey Alleged Pregnant Stomach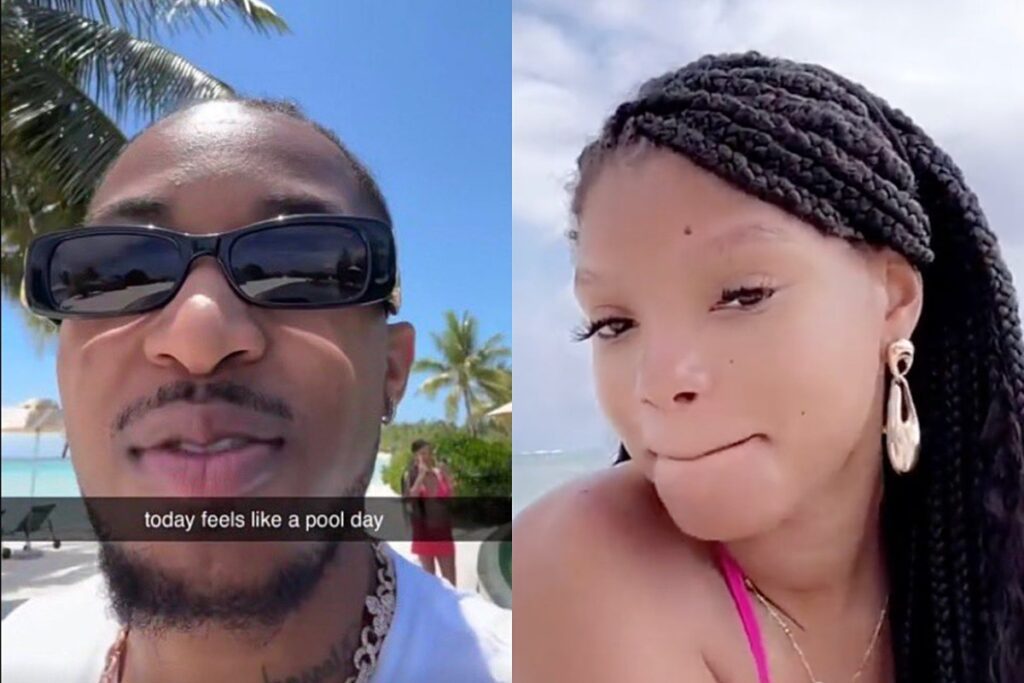 DDG has accidentally revealed that his girlfriend Halle Bailey is pregnant, with observant fans noticing Bailey's alleged pregnant stomach in DDG's Snapchat videos.
DDG Accidentally Posts Video on Snapchat Showing Halle Bailey's Alleged Pregnant Stomach
DDG took a few Snapchat videos of his girlfriend on Monday (Nov. 13), and the pair could be seen poolside, enjoying a tropical vacation together. However, DDG also accidentally showed Bailey's alleged baby bump. he unintentionally showcased her stomach in a few of his videos. Eagle-eyed fans reposted all the Snaps on X, formerly known as Twitter, and were also able to spot Bailey's baby bump in the reflection of DDG's shades.
Halle Bailey didn't stray away from fans' speculations, hopping on Snapchat to shout out her "Snap fam" with the caption "Let's Talk."
"So I wanted to update my Snap fam," she said in the video below. "For those of you who follow me on here. It's very nice to get to know you a bit. It's very, very nice to get to know you a bit."
Halle Bailey Sparks Pregnancy Rumors With New Photos
The accidental reveal comes after Bailey sparked pregnancy rumors on Oct. 16 with some new photos posted on Instagram by The Shade Room. The photos show DDG and Bailey enjoying the day in Santa Monica, Calif., and the latter appears to be concealing a baby bump. The Little Mermaid star was also previously spotted at Fashion Week in Milan, Italy with DDG. Fans thought she was pregnant then too as the singer was seen sporting a dress that covered her stomach. The news comes after Halle Bailey called DDG her first "real, deep love" in an interview with Cosmopolitan in September.
Check out DDG's Snapchat's revealing Halle's Bailey's alleged baby bump below.
Watch DDG's Videos of Halle Bailey
See the Most Recognizable Looks in Your Favorite Rappers' Careers
Nicki Minaj, Future, Lil Uzi Vert and more.