Coi Leray Fires Back at People Telling Her to Eat More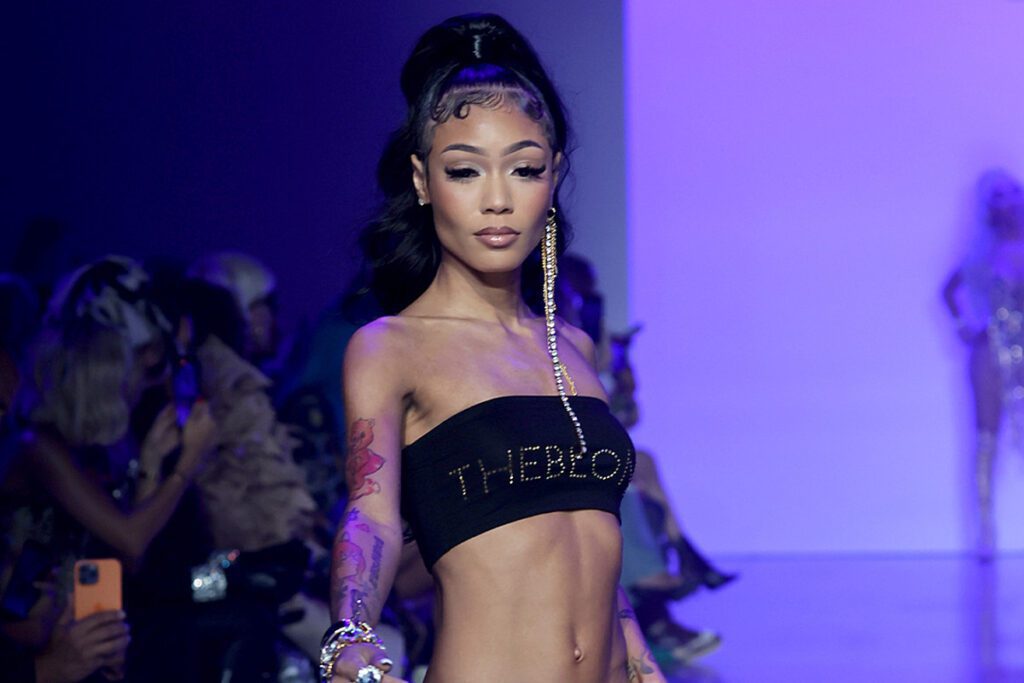 Coi Leray is firing back at people telling her she needs to eat more. The "Players" rapper says that she's proud to be skinny.
On Thursday (April 6), Coi Leray hit up Twitter with a series of tweets full of self-esteem that may serve as inspiration for any of her fans who may struggle with being confident in their physical appearance. The former 2021 XXL Freshman slapped internet body-shamers with a general yet blunt clap back while at the same time declaring that she is perfectly content with her slender frame.
"Skinny and proud," Coi Leray tweeted to kick off the sentiment of self-worth posted below.
As thousands of Coi Leray fans slammed the like button and flooded the comments section with messages of support for the New Jersey native, the Trendsetter spitter then expounded on her proclamation of pride. Coi sent a public message to those who've inferred on social media that her slim stature may be the result of malnourishment.
"People be like you need to eat," Coi Leray wrote in a follow-up tweet before making reference to the success she's seen in the music industry. "Only thing I'm eating is this mother f**king hit. Actually… I'm ready to eat another one… Ready for more music?"
After hundreds of more likes and dozens of replies from fans excited at the thought of new music from the "Pretty Girls Walk (Remix)" rapper, Coi Leray doubled and tripled down on her the fact that she embraces being on the thin side of the body type spectrum in two more Twitter posts.
"Skinny with good p***y," she tweeted. "Skinny and talented."
This isn't the first time Coi Leray has spoken out against being shamed for being skinny on social media. In June of 2021, right around the time she was announced as a member of that year's XXL Freshman class, Coi tweeted about the negativity she faces as a result of her figure but back then, the "No More Parties" rhymer didn't seem as confident as she does now.
"My body is always trending," Coi Leray tweeted at the time. "I don't understand. Is there a certain way I'm supposed to look? Help me understand. In the Bible, is it a sin to be thin? Help me understand."
Coi Leray has upped her status in the rap game tremendously in recent months on the strength of her massive hit, "Players." The track, which contains a prominent sample from Grandmaster Flash & The Furious Five's legendary 1982 song "The Message," cracked the top 10 on the Billboard Hot 100 singles chart with a current position of No. 9. The success of "Players" has spawned a number of popular remixes as well, which find Coi Leray working with artists such as Busta Rhymes, DJ Saige and David Guetta.
See Coi Leray Fire Back at People Telling Her to Eat More and Say She's Proud to be Skinny Below
See the Most Recognizable Looks in Your Favorite Rappers' Careers
Nicki Minaj, Future, Lil Uzi Vert and more.