Chris Brown Asks Funny Marco About G Herbo During Interview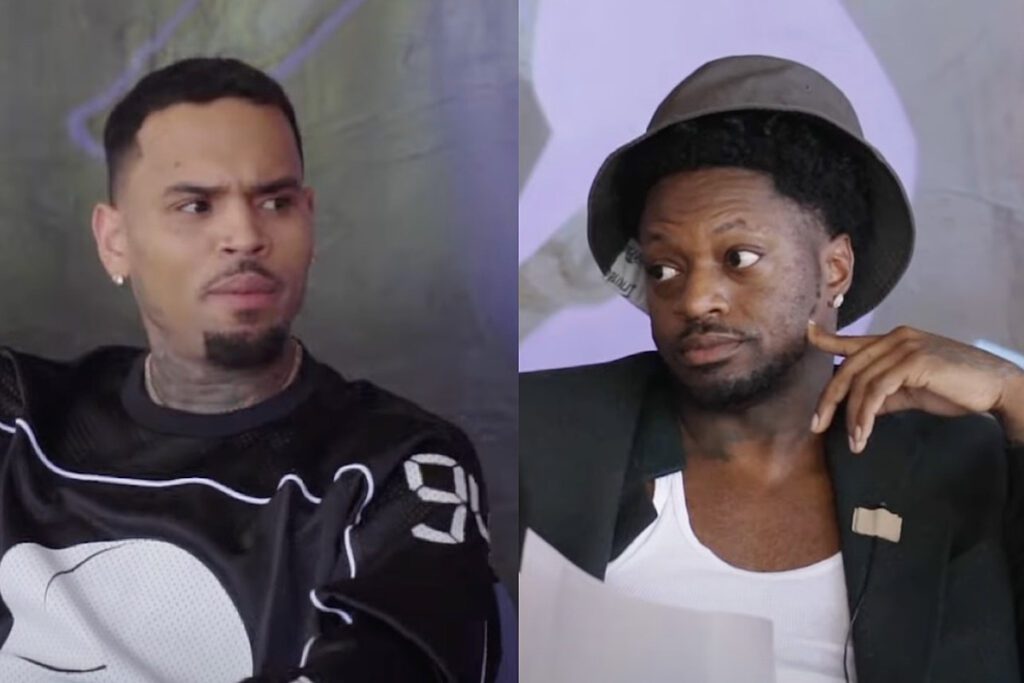 Chris Brown asked Funny Marco about his strange interview with G Herbo during their awkward interview.
Chris Brown Asks Funny Marco About G Herbo Incident During Awkward Interview
Chris Brown sat down with Funny Marco on the latest episode of Open Thoughts podcast, which premiered on YouTube last Thursday (Nov. 9). During their convo, Marco asked the R&B singer a variety of weird questions. But at the 36-minute mark in the video below, Breezy turned the tables and asked Marco an awkward question.
Brown asked, "Why you let G Herbo and them do you like that?" to which Marco laughed and explained that he was in the moment and couldn't believe what was happening.
"'Cause was I just like in the moment, I was like damn like this happening like damn," Marco said.
"So you just letting light-skinned n***as just bully you and s**t," Brown replied.
"I was just like damn like this is like just happening and I was like thinking as it was going on and damn this is happening. It was like that," Marco responded.
Chris Brown didn't seemed to accept Funny Marco's answer.
What Happened With Funny Marco and G Herbo?
Last month, Funny Marco's weird interview with G Herbo and Southside went viral on social media. The rapper-producer duo seemed to be in a trollish mood throughout the convo, frequently deflecting Funny Marco's habit of asking strange questions. At one point, G Herbo threw a cup at Marco before apologizing. Marco later revealed that the duo broke his $30,000 watch in a deleted scene.
After clips from the interview began circulating online, fans reacted to the awkward sit-down on social media.
"Why did G Herbo and Southside go on Funny Marco show to act like that?? I'm so disgusted," tweeted on person on X, formerly known as Twitter.
Funny Marco responded to the backlash for the cringy G Herbo and Southside interview. You can read it below.
21 Times Rappers Experienced an Awkward Interview
G Herbo Says He Wasn't Talking About Chris Brown In His Video
G Herbo recently put out a video denying that he was talking about Chris Brown in a video where he appears to be warning someone to keep his name out of his mouth. Many fans have speculated it was Breezy who he was referring to. In a DJ Akademiks' post, the Chicago rapper wrote, "I'm not talking bout no f**king Chris [Brown] stop posting this gang y'all reaching." You can read it below.
G Herbo Sues Former Manager and Indie Label for $40 Million
Watch Chris Brown's awkward interview with Funny Marco below.
Watch Chris Brown's Interview on Open Thoughts with Funny Marco
See Rappers' Odd Hairstyles