XXXTentacion's Uncle Describes Rapper's Fatal Shooting – Watch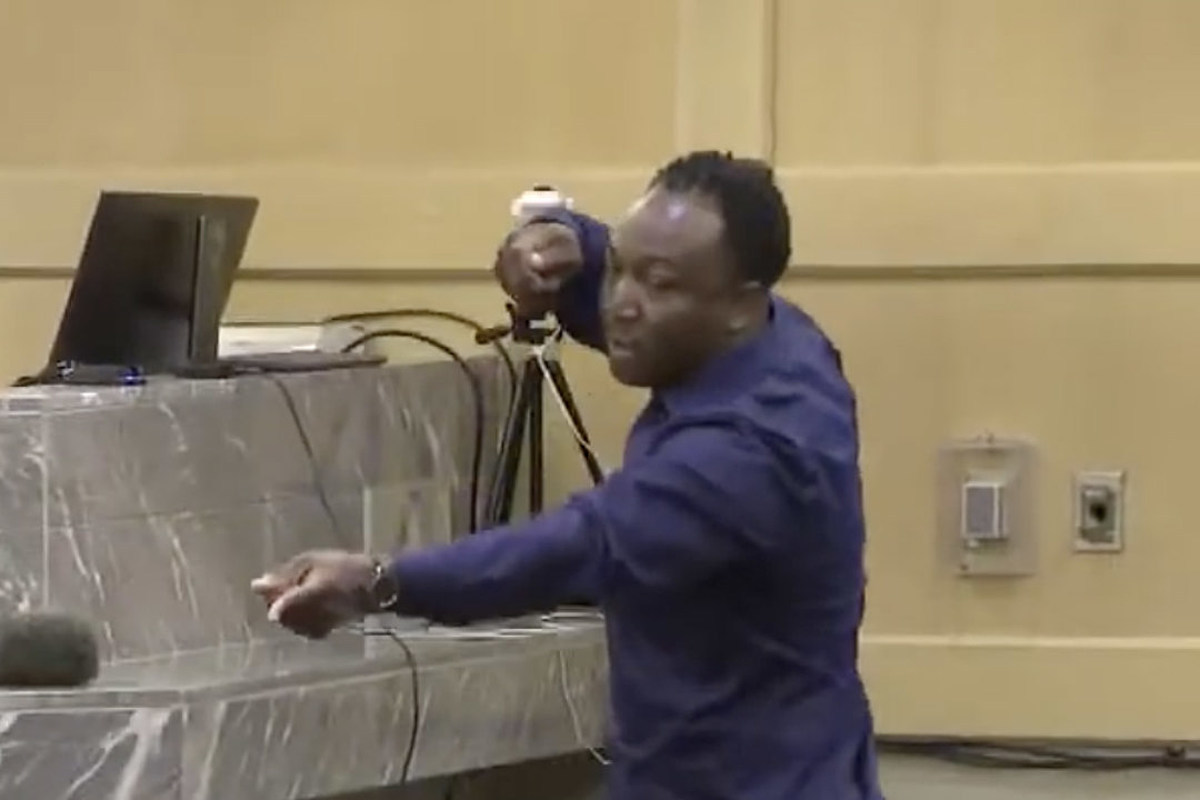 XXXTentacion's uncle gave his account of what he saw the day the rapper was fatally shot during the first day of trial for the three men accused of killing the South Florida rhymer.
On Tuesday (Feb. 7), the first day of trial for accused killers Michael Boatwright, Dedrick Williams and Trayvon Newsome began. X's uncle Leonard Kerr took the stand. He was in the passenger seat of X's car leaving RIVA Motorsports in Deerfield Beach, Fla. on June 18, 2018, when a SUV blocked them from leaving the parking lot and two men approached the rapper's car brandishing firearms. Kerr can be seen in surveillance footage fleeing the vehicle as the robbery was taking place.
"We get in the car to drive out. At the exit, when we pull out, we stop," Kerr said at the 6:12:30-mark of the Law&Crime Network livestream of the trial below. "[XXXTentacion] looked to the left. I looked to the right. By the time [XXXTentacion] looked to the left, I see a car coming down the block and blocked the entrance," Kerr, who is originally from Jamaica, explained. "After the car pulled by the entrance, two persons jump out the side doors. One come on Jahseh side, one come on the side that I'm on."
He continued, showing the jury how one of the men held the gun. "The taller one do like this, 'You don't come out of the f-ing car.' The other one was at Jahseh's side…He was saying, 'Give me the chain. Where's the chain?'"
Kerr had to take a moment to compose himself while continuing to explain what transpired after that. He said he opened the door and began running and later heard multiple noises that sounded like explosions. Kerr said he then called XXX's mom Cleopatra Bernard and returned to the vehicle after the gunmen sped away to see XXXTentacion unresponsive.
Yesterday, jurors also saw previously unreleased footage of XXXTentacion at the bank withdrawing $50,000 just hours before he was killed. The video shows him placing the cash in the same Louis Vuitton bag he was said to be robbed of when he was shot and killed.
Michael Boatwright, Dedrick Williams and Trayvon Newsome have been charged with first-degree murder and armed robbery. If convicted, they face up to life in prison. A fourth man arrested in connection to the murder, Robert Allen, pleaded guilty to second-degree murder last summer and is cooperating with the state.
See Video of XXXTentacion's Uncle Describing the Rapper's Fatal Shooting in the Video Below
See Rappers We Lost in the 2010s