Troy Ave Taunts Taxstone With New Song After Guilty Verdict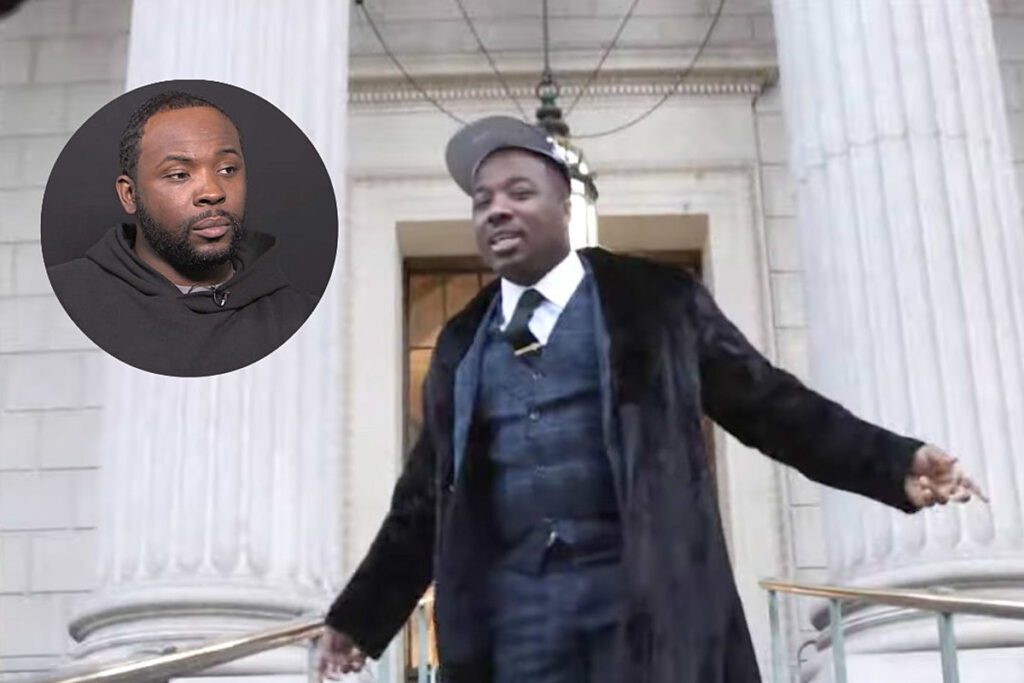 Troy Ave is currently reveling in the news that podcaster Taxstone has been found guilty of manslaughter in the death of the BSB rapper's bodyguard, and Troy's made a new song addressing the situation.
On Thursday (March 22), just hours after news broke that a jury had convicted podcaster Daryl "Taxstone" Campbell in connection to the infamous fatal shooting at Irving Plaza in May of 2016, Troy Ave dropped a new diss record aimed at Tax titled "Dear Hater I Won (Taxstone Found Guilty)."
"Since you ni***s like writing letters, here go one/Dear hater, I won/I'ma boss, you a bum/Suck a d**k, to the code," he raps on the chorus.
On the lone verse on the song, Troy attacks Tax's credentials as a stand-up street dude, referencing Tax reportedly telling a judge in the case that Troy Ave is the "bad guy" back in 2017.
"I sat many months, you wrote to the judge soon as you walked in," Troy Ave raps. "'Mr. Collins and his entourage be doing a lot of shootings/A recent one outside this New York city club that sued him'/And now it's people suing, plotting to take where I stay/Got attempted murder 'cause I took the gun from him and bust back/This ain't no made up raps, I'm paraphrasing the facts/I'm the king of the underground, you just a underground rat."
In the video for the song, Troy Ave is standing on the steps of what appears to be a courthouse busting out minimalistic dance moves with glee. The visual also features surveillance footage from the incident that shows Troy firing a gun in the venue the night of the shooting as well as slides of police paperwork.
As previously reported, Taxstone was found guilty of first-degree manslaughter, two counts of assault in the first degree, one count of assault in the second degree and two counts of criminal possession of a weapon in the second degree for the 2016 Irving Plaza shooting that left Troy Ave shot and his bodyguard Ronald "Banga" McPhatter dead.
Troy Ave testified in the trial, stating the incident began when he and McPhatter ran into Taxstone, whom Troy had a feud with, in the VIP section of the Manhattan, N.Y. event venue. After words were exchanged, and a tussle began, Troy testified that Taxstone pulled out a gun and shot McPhatter dead, and shot Troy twice in the legs. Troy then claimed he wrestled the gun away from Tax and shot back but he misfired.
Troy Ave was arrested for attempted murder a day after the incident when surveillance video showed him shooting a gun in the venue that night. Following a six-month investigation, Taxstone was arrested and indicted for the killing after he'd already been arrested for firearms charges in connection to the shooting. Prosecutors reportedly promised Troy Ave a one-year sentence in exchange for his testimony against Taxstone. He was facing 15. Troy released the Taxstone diss track "Black Church" the day he testified.
Taxstone is set to be sentenced on April 19.
See Troy Ave's New Video for the Track "Dear Hater I Won ( Taxstone Found Guilty)" Below
See 50 of the Worst Lyrics From Rappers