T.I. Reacts to Boosie Saying Album Is Scrapped Snitch Backlash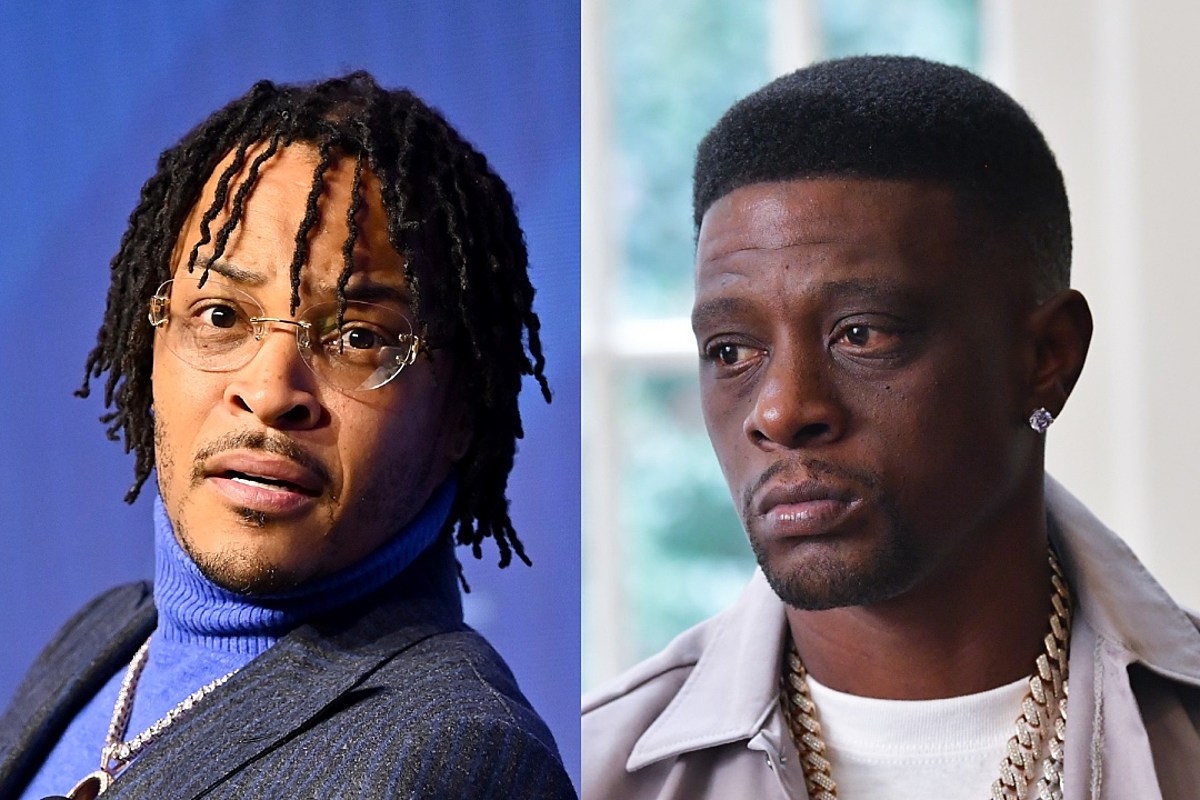 T.I. has reacted to being called a rat by Boosie BadAzz who recently revealed he scrapped their joint album after a resurfaced podcast episode where Tip admitted to snitching on his dead cousin.
On Tuesday (Feb. 21), T.I. shared a video of Boosie making his claims on Instagram along with a lengthy rebuttal.
"Idk if it's you or ya 'OG Uncle' that needs to see it… but I GOT MY PAPERWORK ready to show!!!" T.I. captioned video of Boosie's recent interview. "PULL UP!!! My number the same & my address the same my nigga. To get on da net & speak on shit you've never spoke to me about is leaving me to believe you been hiding ya heart the whole time!!!!"
T.I. then took Boosie's claims to task by asking if the "Fuck the Police" rapper ever took the time out to check any official documents before making accusations about Tip potentially being a snitch.
"I'd NEVER speak 'certain disrespect' on your name/reputation bout a 'IF' homie… da convict code say When in doubt…pull the paperwork out!!!" T.I. continued. "'IF' you ain't did that…Now … Idk what type of time you on but I say again… 'IF' it was a question or confusion bout anything I said you could've called and asked …. so u can report back & tell ya 'OG' …or you could've pulled up & checked the blk & white like I'm offering now."
From there, T.I. went on to explain that regardless of what Boosie now thinks of him, he isn't interested in the opinons of others.
"Either way tho my nigga … I ain't bound to no nigga's opinion of me," he added. "'Cause what dey 'THINK' will NEVER overrule what I KNOW!!! So don't wonder no mo' homie…. answer the 'IF'… PULL UP & report back to da rest of these niggaz who opinions matter so much to you. Cause I could Give a Fuck bout what no nigga think bout me!!!"
The "Live Your Life" spitter finished off the pointed social media post by expressing a certain sense of disappointment in Boosie's words as well as the current state of their seemingly former friendship.
"'The tail shall never wag the dog' Leadership Leads…. wit facts and stats… we don't follow no fantasyland shit…remember that!!!" Tip concluded.  "I ain't bending my knees for nothing or fearing nothing but GOD!!! So cmon & see what you speaking bout so next time you can speak intelligently. @mamaheliveagain.2.0 I expected more from you. This shit ain't solid. obviously I thought we WAS something we WASNT."
On Monday (Feb. 20), a VladTV interview with Boosie went viral when the Baton Rouge, La. rapper called Tip a rat and revealed he scrapped their upcoming joint LP as a result of T.I. admitting he snitched on his dead cousin in a resurfaced interview from 2020.
"With the T.I. situation, if he did that, you a fucking rat, too," Boosie said at the 3:52-mark of the interview below. "I don't spare no-muthafuckin-body. Because if you doing anything wrong and you cooperate with law enforcement to get you out of trouble, that means you're cooperating. That means you're a rat."
Even with that, Boosie said he doubted T.I.'s claims.
"But I'ma tell you like this," Boosie continued. "When I saw that, I think T.I. fucking lying. I think he went up there and got to fucking talking. You think something happened at 17, 18 years old, right. How vocal he is. You gon' hold that in all them damn times? All this damn time, for 20-something years, you gon' hold that in and it finally came out?"
However, Boosie said the damage was already done.
Last December, video resurfaced of T.I.'s ExpediTIously podcast from 2020 where T.I. admitted he told on his dead cousin to avoid a gun charge when he died after they got arrested together.
"We caught those gun cases, Toot died," T.I. explained. "My lawyer said, 'Well, you know, I could make everything go away if it was Toot's, it was Tremel's.' After he had passed, I had a talk with him. Toot said, 'I'll take all the charges you got. If you can walk away free and put it on me, goddamn right. 'Cause I'll be damned if they gon' come and muthafuckin extradite me from here.'"
See T.I.'s Boosie Rebuttal Below
See the Definitive List of Bizarre Tweets From Rappers