Fans Think Nicki Minaj Disses Megan Thee Stallion and Latto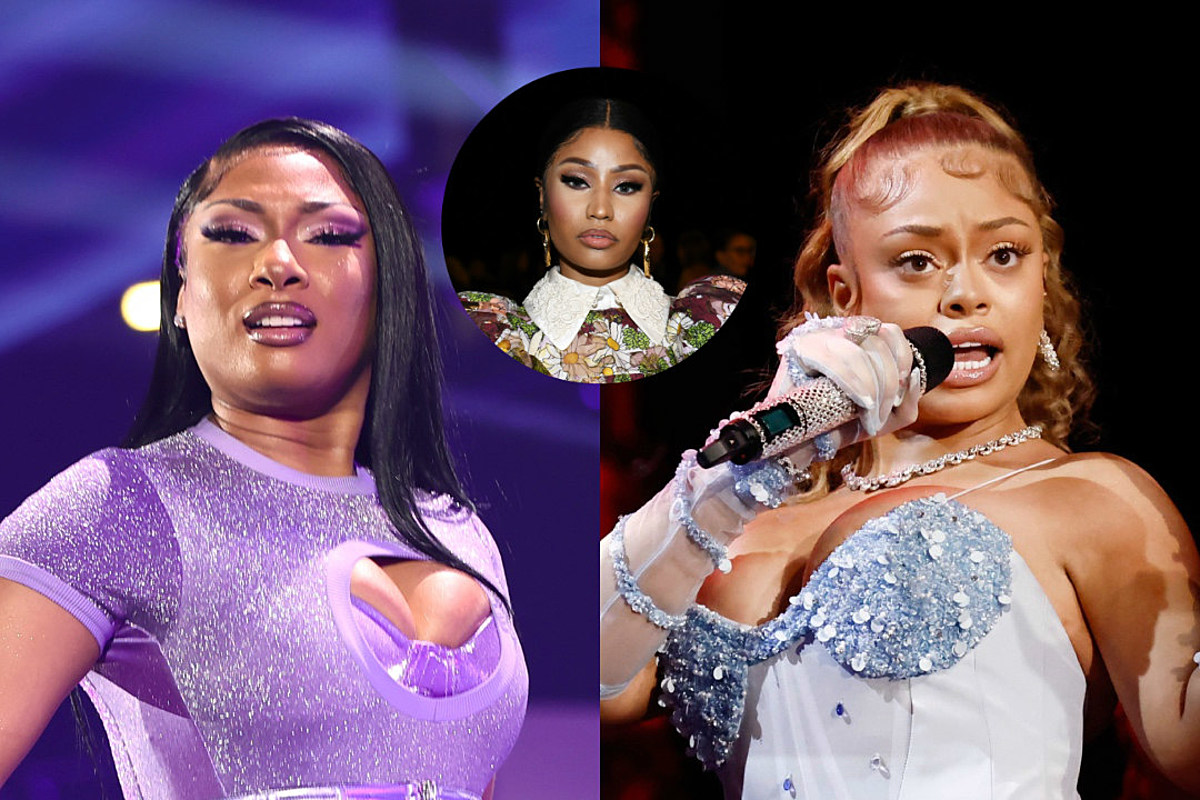 Fans are accusing Nicki Minaj of dissing Megan Thee Stallion and Latto on Nicki's new song "Red Ruby Da Sleeze."
On Friday (March 3), Nicki Minaj returned and put out her new single. The track, which samples Lumidee's 2003 song "Never Leave You (Uh Oooh, Uh Oooh)," is getting mixed reviews. But many fans are pointing out lyrics that appear to be subliminal shots aimed at Megan Thee Stallion and Latto.
Fans are surmising Megan Thee Stallion got a double dose of shade. In the lyrics in question Nicki raps, "Seven-hundred on 'em horses when we fixin' to leave (Uh-oh)/But I don't fuck with horses since Christopher Reeves," with some people calling the horse line a reference to Meg.
On the other supposed diss line Nicki snaps, "Ya fuckin' bozo/That .40 cal a make 'em dance like a go-go."
"'Make em dance' is saying to shoot at someone's feet, what Tory Lanez did to Megan Thee Stallion," one Twitter user wrote. "Nicki Minaj is once again attacking Megan even though Megan hasn't said a word in months. Bitter Barbie is having one sided beef again because of the success Megan has."
"Nicki Minaj making fun of Megan Thee Stallion in new song for getting shot is just disgusting," another person tweeted.
In the line people believe is in regard to Latto, Nicki raps, "We don't be Karen like Donna-na, na-na-na-na," which people think is a reference to Nicki Minaj calling Latto a Karen during their Twitter spat last December.
"We don't be Karen like Donna-na-na-na-na-na-na ( We don't be caring) but also a Donna Karen reference but also we're not KARENS & LATTO & Singing Sweet 'oh Donna , Donna why you go, away' LMFAO," someone else posted.
Beef between Nicki and Megan arose last year when Nicki Minaj appeared to call out Megan for being fake and encouraging her to have an abortion, though Megan denied the claims.
See More Fans Concluding Nicki Minaj Is Dissing Megan Thee Stallion and Latto on Nicki's New Song Below
See 50 Lyrics Rappers Got Wrong