Blueface Claims Lil Baby Called Chrisean Rock Sexy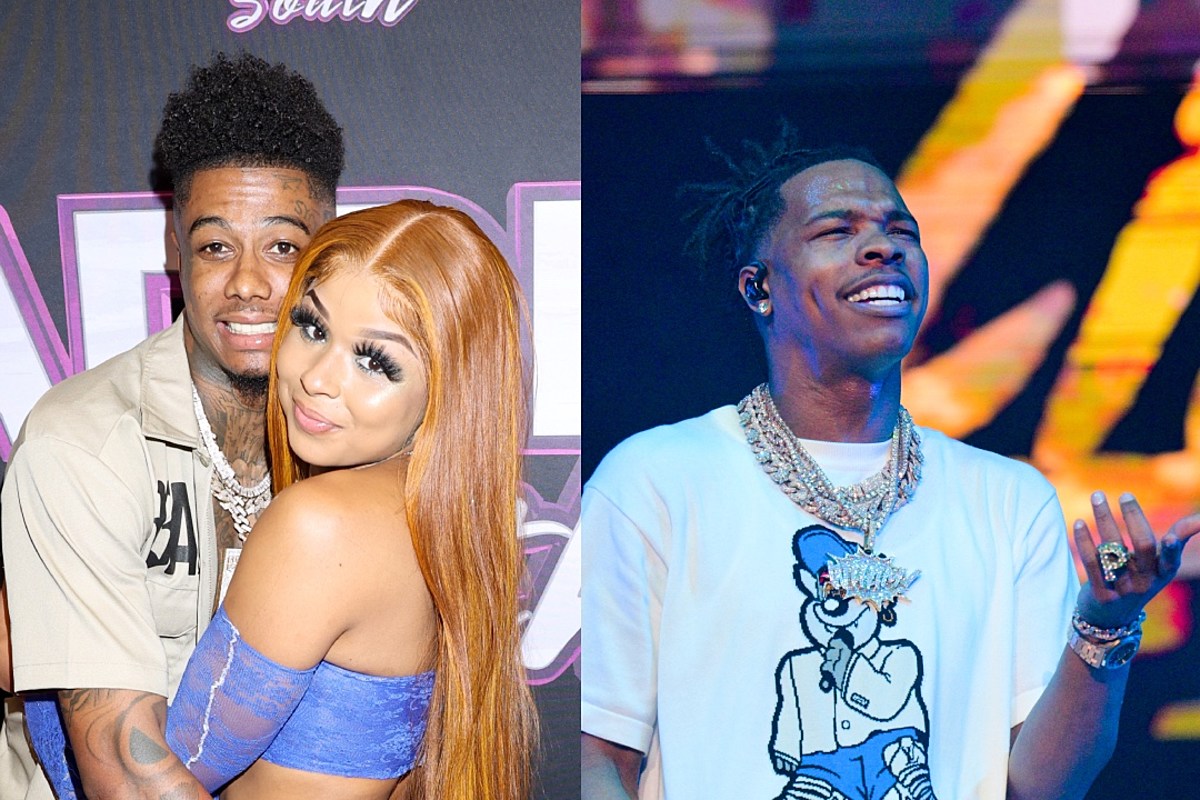 Blueface is explaining why he doesn't want Chrisean Rock talking to any rappers after claiming Lil Baby tried to woo Chrisean by calling her sexy.
On Monday (Feb. 27) The Bootleg Kev Podcast aired its new interview with everyone's favorite toxic couple, Blueface and Chrisean Rock. During the nearly hour-long sitdown, Kev brought up Blueface recently catching feelings over Chrisean taking a photo with Rick Ross and talking to Lil Baby during Super Bowl weekend in Arizona. Blueface wasn't trying to hear about any plutonic relationships, even if they somehow helped Chrisean's career.
"It's not gon' be real networking," Blueface opined around the six-minute mark of the interview below.
"Not when they trying to fuck. That's what he trying to say," Chrisean chimed in. When Kev brought up Lil Baby's alleged comments about being a "big brother" to Chrisean, Blueface disagreed.
"That was the throw-off. That's not what he was telling her when he was in front of her," Blueface said.
Chrisean pushed back, saying their conversation was music-based.
"She lying," Blueface blurted in. "She didn't tell you he was like, 'Oh, you sexy. Oh, I want you around. Oh, you got potential. Come to the studio. What's your number?' I don't know if she like cuz or not but she trying to water it down."
"If she networking, it's cool," Blueface added. "By all means, network. But once it's money being talked about and business that's being exchanged, that's unprofessional."
The Lil Baby saga first began earlier this month when Chrisean Rock admitted on Instagram Live with Blueface that she met and spoke with Lil Baby during Super Bowl weekend. According to her, the talk was about music and Lil Baby told her she had potential.
"Potential to what? Fuck him?" Blueface responded to the revelation.
"It was an empowerment conversation," she said.
"Y'all had an empowerment conversation at 5 a.m.?" he questioned her before the video ended.
Blueface later shared alleged texts sent from Lil Baby to Chrisean addressing the situation.
"It's baby," the first text message reads.
"Why people saying I was in your DM [crying laughing emojis]," the second text says. "Why you ain't tell them I'm a big brother. I hate shit like that."
Blueface captioned the post: "Met my bitch one time talm bout he 'big brother' [crying laughing emoji] You ain't no son to me the truth could never be a dis."
In follow-up tweets he added, "I run this shit on sy be mad if you want to bitch post my messages I'm bleeding anything come thru my Territory without checking In welcome to death row…You in her DMs I'm in this bitch fone on sy cryp."
Blueface later implied he was catfishing Lil Baby. Lil Baby has yet to respond publicly to the drama.
See Blueface and Chrisean Rock's Interview on The Bootleg Kev Podcast Below
See the Definitive List of Bizarre Tweets From Rappers