50 Cent Thought Druski Was Dead After Seeing Viral Fall Video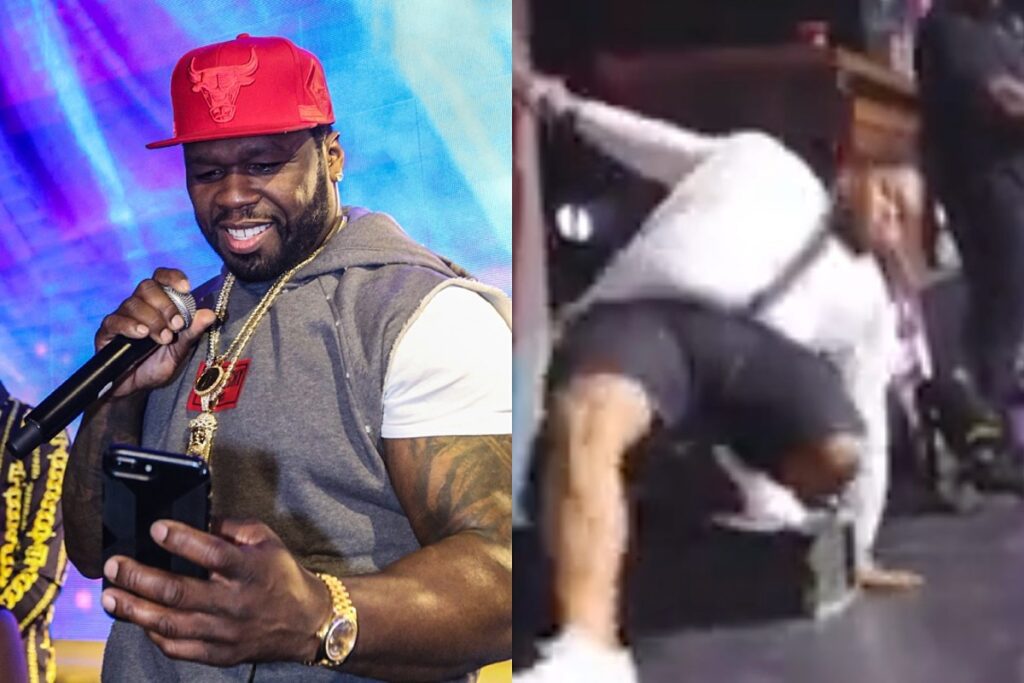 50 Cent is clowning Druski after seeing a viral video of the comedian falling on stage during a recent show.
Over the weekend, video of Druski performing at a comedy show went viral due to the funnyman falling while performing in front of a crowd. In the clip, Dru is walking down a set of steps when the last one gives way and sends the comedian falling backward awkwardly on his leg. Druski crawls around on the stage before the video cuts off.
Druski joked the moment on Twitter on March 25.
"Broke my damn Ankle chasing that White Chocolate," Druski tweeted, referencing him walking after a White woman when the incident happened. "Idk who im Suing yet but THEY'RE FUCKED."
He also shared a photo of himself being pushed in a wheelchair with his foot in a medical boot. He also posted a picture of his head photoshopped on Drake's character from Degrassi who was wheelchair-bound after being shot.
On Sunday (March 26), 50 Cent caught wind of the video and reposted it on his Twitter page.
"Nobody told me Druski died, i send my condolences to his family and loved ones," 50 joked. "Boy WTF happens here? who put that last step there like that? LOL Somebody gotta die!"
50 Cent wasn't the only one who had jokes for Druski for the viral video. Twitter had a field day.
"His fall funny asf but his leg dead almost split in half, ya can see if his leg was a big more bent it would've snapped," one person tweeted.
"Damm broke his back ankles in one fall dammmmmmmmmm," another person wrote.
"Why druski fall in slow motion like that," another Twitter user added with several crying laughing emojis.
See Video of Druski Falling and Reactions Below
See the Definitive List of Bizarre Tweets From Rappers