Rick Ross Shows Off Kickboxing Skills in Hilarious Training Video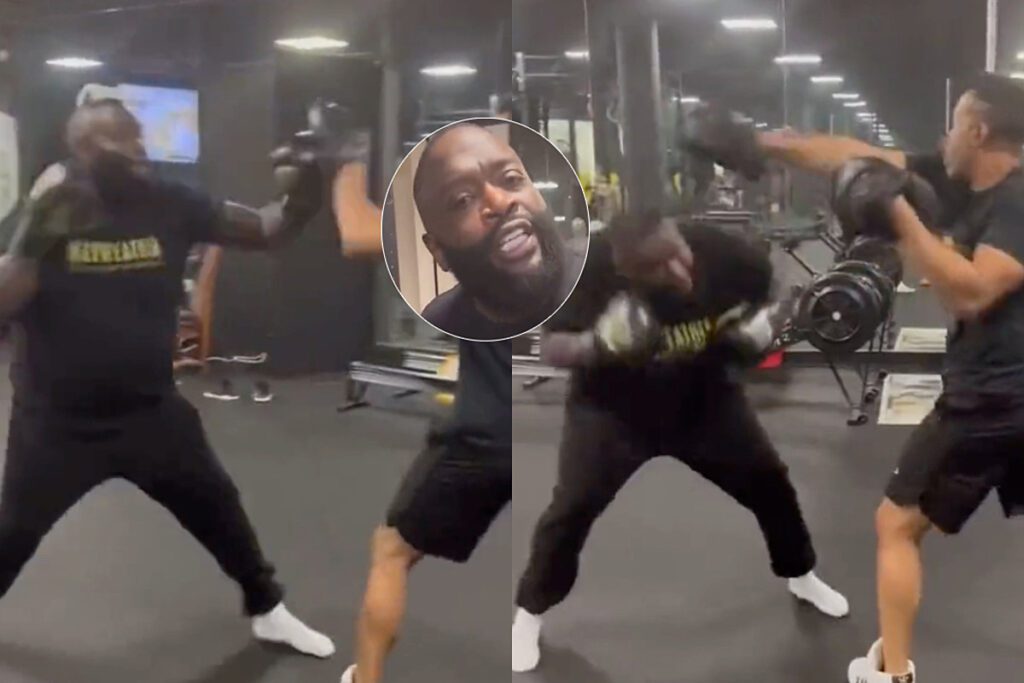 Rick Ross has been on a whole mission to improve his combat skills and is now displaying the results in the form of a hilarious training video.
On Monday (March 27), Rick Ross hit up his famous Instagram Story to show off the work he's been putting in both on the mat and in the ring. The biggest boss wants the world to know that when it comes time to throw down, Rozay is ready and willing with the fists, the feet and of course, the words.
"You see, when I go wild, 'cause I don't want to train just to be training in the streets, ain't no… all that tap s**t," Rick Ross said in the video below seemingly in reference to the Muay Thai kickboxing pads his trainer is wielding. "I go buck wild. So if you don't know me, when I nut up on you, it's what I'ma say, which is gon' be horrendous. Then, I'ma jump with the punch—hiyah!"
After hitting the person holding the camera with a fierce and apparently effective jumping front kick, the video demonstration continues and this time, Rick Ross puts his punching power and in-ring footwork to the test all the while, talking his smack.
"So when I start training at this intensity level, I take my shows off, so I don't kick my homie like that," continued Rozay. "Another n***a, I ain't gon' spare you, I'ma kick you. I'ma kick you and punch you in the head. So come on, n***a."
After an impressive display of the hands with his trainer, the Maybach Music Group rapper-exec finishes off the comical sparring session with a swift low kick in his sensei's general direction as he declares, "You don't want none of me."
This isn't the first time Rick Ross and his hand-to-hand combat techniques have been on display. Back in April of 2022, Unified Welterweight World Champion boxer Errol Spence Jr. made note of Ricky's punching power while ranking rappers who have the best hands.
"I seen Rozay do his stuff," said Errol Spence Jr. in an interview with XXL. "He had a whole bunch of clips of him doing that. His one-two seems solid, too. Like, if he hits you, he'll put you down. Especially [in] other clips. It looks like he's kinda tired in this one. But them other ones when he be throwing that one-two, them boys be hard. He's sounding off. He be going. His footwork needs improvement and he needs to calm down a little bit. He's a little bit too hype. But yeah I definitely see some improvement."
The hysterical footage below of Rick Ross' training session comes just about a week after the Teflon Don MC took it upon himself to explain to his angry neighbors that the roaming buffaloes Rozay has on his Promise Land property are "peaceful" and they have nothing to worry about.
Watch Rick Ross Show Off His Kickboxing Skills in the Hilarious Training Video Below
See Rappers Named After Notorious Crime Figures