Meek Mill Calls DJ Drama 'a Goofy' for Speaking Down on Him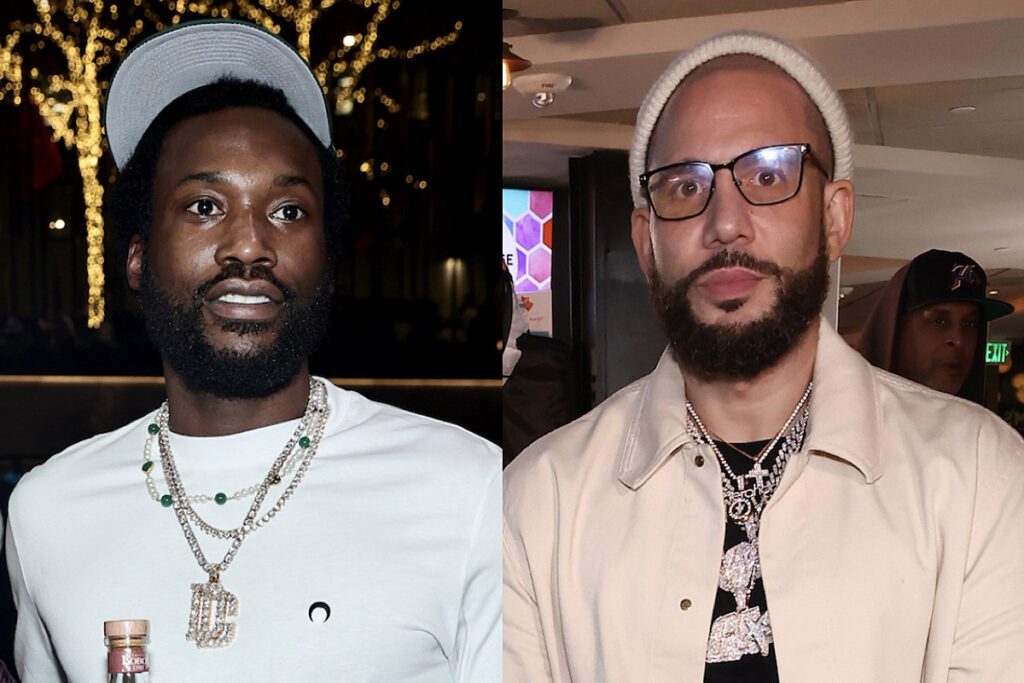 Meek Mill called DJ Drama 'a Goofy' for speaking down on him in interviews.
On Sunday (May 29), Meek Mill hopped on his Twitter account and blasted DJ Drama for talking down on him especially when he told TMZ earlier this year that he thought Lil Uzi Vert's song "Just Wanna Rock" replaced Meek's "Dreams and Nightmares" as the new Philadelphia anthem.
"Dj drama a goofy over these hoes lol he won't speak good on me I tore him up in the a," Meek tweeted.
The Philly rapper added: "When he when I asked drama why he always speaking down on me with a few other words too told him he's a goofy… I also hit him when he tried to compare dreams and nightmares to I wanna rock AND DOWNPLAY ME … DONT LET THESE INDUSTRY LAMES USE YOU THEY DONT REALLY EVEN LIKE YOU SMH LOL."
In Meek's latter tweet, he shared a screenshot of a text message exchange between him and DJ Drama. In it, Drama wrote, "shit aint got nothin to do wit no bitches. [To] be honest i don't even speak on ALL THE REAL SUCKA SHIT u be DOIN! [That's] the crazy part!"
He continued: "U just did it to me again for the TINY DESK PODCAST FUCKED MY WHOLE ROLLOUT UP AND WASNT EVEN MAN ENOUGH TO JUST TELL ME NO!!!!"
In response, Meek simply wrote: "Clown."
DJ Drama also responded to Meek's tweets in his Instagram Stories. The I'm Really Like That creator shared a screenshot of his interview on the Jay Hill Podcast where he stated that he believes Drake is the Jay-Z of this generation as opposed to Meek. "This really why he mad [man shrugging his shoulder emoji]," he captioned the photo.
You can watch the interview below.
DJ Drama shared the image again and captioned it, "Watch for yaselves where's the lie?! [two cry laughing emojis]."
Later, Meek went on a Twitter rant disparaging DJ Drama for a variety of things, including never giving back to his native Philadelphia hometown.
"If they asked me about dj drama and Khaled I wouldn't speak and I made millions on paper with Khaled I'll still stay silent … I'm from Philly … and we don't wear out fitted hats like that drama "SHOP AT MITCHELL AND NESS" he tweeted.
He continued: "That man never did real charity in Philly in his life … I just be saying bits parts online because it be too much to say … I be wanting it to be known when ion Rock wit these goofies … and I stand on my tippy toes when I see them so it's no confusion before we even interact! "Drama queen over these females"
"The biggest mistakes you can make in this game is having sex with the wrong females … jealous men will try to destroy you quietly Or find out a way to dislike you lol … y'all can keep them gals I like my family and friends more! It's saddd lol."
Meek concluded: "And I'm the meek of this generation … nothing can't be hov he laid all this s**t out for us you gotta make your own movie outchea that's that n***aitis who the new hov …. I respect that highly can't be re-done … drama tryna divide and conquer a feat lol drama basically started/powered that meek and drake beef … so to see him compare us again and cut youngin off to where he can't barely speak so much gat in his mouth lol."
Meek also addressed a fan who was questioning why a rich man is feuding with another rich man on social media.
"I was getting a rich ass massage scrolling on twitter seen a goofy i know speaking on me so I'm speaking my mind … we be multitasking on bs sometimes lol this s**t hard to figure out it's lit tho [crossed fingers emoji]," he responded.
Meek also tweeted: "I don't be wanting to secretly beef or secretly play games with nobody … I like put it on the front it'll add ip later what these bustas being doing[.]"
It's unfortunate that two Philly-born hip-hop legends are beefing with each other. Let's hope they can settle their differences amicably.
Read DJ Drama's Response to Meek Mill Calling Him "a Goofy" Below
See Wild Rap Beefs That'll Probably Never Be Resolved
Pusha-T and Drake, YG and 6ix9ine, and more.