Lil Uzi Vert Eats Cockroach in Thailand – Watch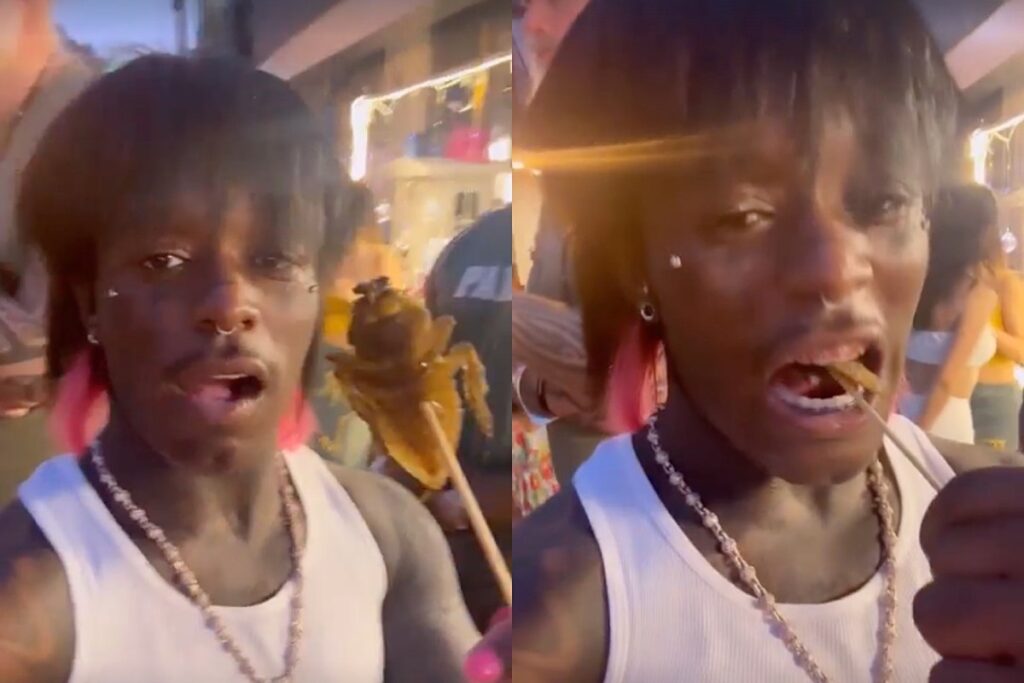 Lil Uzi Vert recently shared video of themself chowing down on a cockroach.
Uzi is currently in Thailand to perform at 2023 Rolling Loud Thailand in Pattaya, City on Thursday (April 13). While in the city, Uzi is apparently trying out some local fare, which includes eating a fried cockroach. Last night (April 12), the Eternal Atake rapper shared video of their attempt at ingesting the insect. In the clip (below), Uzi shows off the skewered bug to the camera. They then go all in by putting the entire bug in their mouth.
Lil Uzi Vert then begins to chew on the bug. They tried to power through breaking the cockroach down with their teeth while trying to keep a straight face. Eventually, Uzi appears to gag. And does not look like they were able to swallow the bug before the video cuts out. It is unclear if Uzi was able eat the entire insect.
2023 Rolling Loud Thailand is set to feature headlining performances from Cardi B, Chris Brown and Travis Scott, as well as sets from Uzi, Rick Ross, Fat Joe, DaBaby, Soulja Boy, Offset, Lil Pump and more.
Lil Uzi Vert has been in the hip-hop headlines frequently recently, with both of their recent tattoo additions going viral. Over the weekend, the rapper revealed they'd gotten an upside-down cross tattooed on their tongue, just weeks after having to respond to backlash for satanic lyrics. Most recently, Uzi got their entire forehead covered with a new tattoo.
See Video of Lil Uzi Vert Chowing Down on a Cockroach in Thailand Below
See the Definitive List of Bizarre Tweets From Rappers