Key Glock Isn't Trying to Fit In, He's Creating His Own Memphis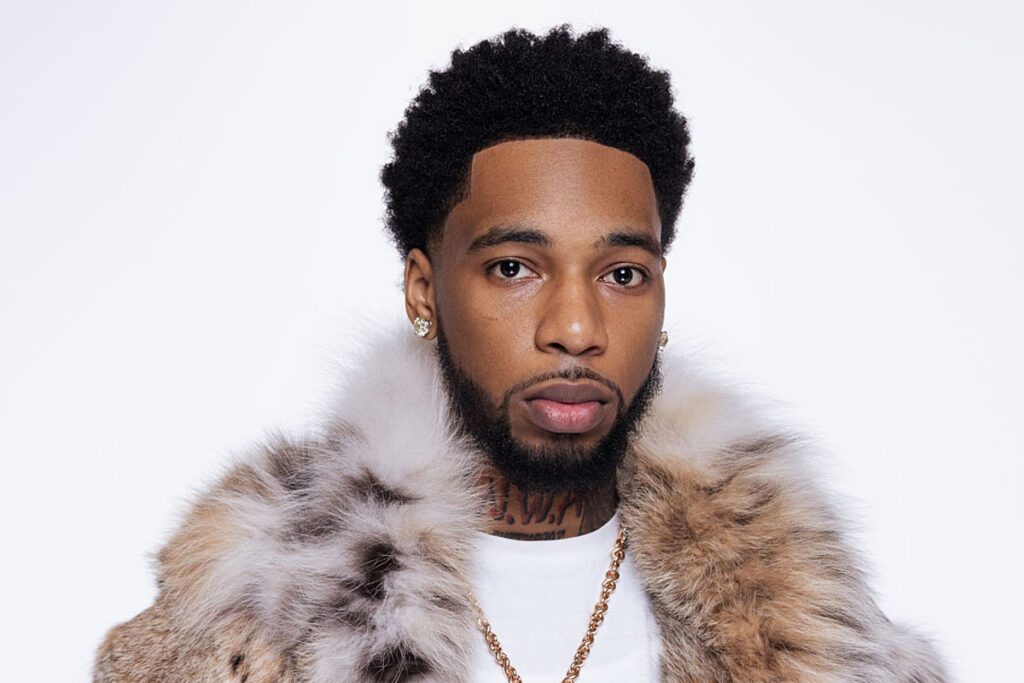 Tunnel Vision
After a short break, Key Glock's moving ahead with his solo career while making sure the Paper Route Empire name lives on forever.
Interview: Robby Seabrook III
Editor's Note: This story will appear in the Spring 2023 issue of XXL Magazine, on stands now.
Even with several gold and platinum plaques, more than 140 million streams and a rising celebrity profile, Key Glock is still known for being low-key. In a world where rappers are constantly in the public eye, the 25-year-old Memphis native, born Markeyvius Cathey, has been more focused on making music and touring than being in the spotlight. Despite that, Glock still has fans all over the world.
A close listen to his latest album, Glockoma 2 (the sequel to 2018's Glockoma) released this past February, reveals glimpses into what's on the mind of the mostly guarded MC. Good memories of his late cousin, Young Dolph, and disdain toward anyone who slights Key Glock are heavily included, but there's also anger over Dolph's murder. Dolph proudly repped Memphis as a mostly independent artist who built his own successful label, Paper Route Empire. Glock signed to the label in 2017, after five years of rapping and a year after releasing his debut mixtape, Whole Lotta Errthang. Since then, he has dropped five albums, two mixtapes and collabo LPs Dum and Dummer and Dum and Dummer 2 with Dolph.
When Young Dolph was killed on Nov. 17, 2021, the world was knocked off its axis for Key Glock. And despite his heartbreaking loss, Glock had his most successful year in his career with his mixtape Yellow Tape 2 landing at No. 7 on the Billboard 200 chart. He also racked up two gold plaques for songs "Since 6ix" and "Gang S**t No Lame S**t," plus a platinum plaque for "Russian Cream." Reeling from Dolph's death, Glock took a five-month break from rapping, releasing only one song, his 2022 heartfelt tribute to his cousin, which appeared on the record "Proud" off PRE's Long Live Dolph compilation. Upon Glock's return to music, the rapper put out the Yellow Tape 2 deluxe album and then dropped the PRE5L EP last November followed by Glockoma 2. Now, Key Glock is fueled to carry on the legacy of PRE, following in Dolph's footsteps.
Nestled into a conference room at Empire Distribution's Manhattan office on a March afternoon (Empire distributes PRE's music), Key Glock comes off loose and engaged. Decked out in a purple Louis Vuitton wool sweater and green corduroy pants, with his CutThroat chain gleaming under the fluorescent lights, the artist is fresh as always. Most of PRE's roster is present, including Dolph's business partner Daddyo, rappers Kenny Muney, Snupe Bandz and sought-after producer BandPlay. With Glockoma 2 serving as hushed background music, Glock is measured and honest as he discusses his responsibility to push the PRE name forward, not getting the respect he deserves as a rapper, the real reason he never has features on his projects and more.
XXL: When you first started rapping, what did you want out of your rap career?
Key Glock: It started off as for fun. It was the people around me that made me realize I need to take it seriously.
What were the people around you saying about your music at the time?
I was just getting a lot of positive feedback. Wasn't nothing negative being said about my music. It just went to my head and I ran with it.
When did you start to feel successful with your rap career?
When I recorded my first track. It was called "Actin." I did it, I think my 11th grade or 12th grade year. I put it out on YouTube and that's how it all started.
You have a lot of fans and your accolades show that you've made an impact, but how do you feel about your career? What do you think of your position?
I'm doin' aight. Nah, for real, I know it's way much more that's gotta be done. I just gotta do it.
What do you feel that you haven't done that you feel you need to do?
Nothing 'cause I don't regret nothing right now. Everything happens for a reason.
Over the years, your pure skill as a rapper has continued to improve. What do you think has changed about you that made this possible?
I'ma be honest. I'm just getting richer and wiser. I'm just growing up. I learn new things and do new things every day. It's just part of my lifestyle. I just put it in the rap.
Did you feel in the earlier days, because you weren't at the level of fame and success you are at now, that your circumstances were holding you back?
Nah, not really. I always knew I was him. I already knew I was the one. Everything just takes time. And direction.
How did you stay patient, especially considering how quickly other rappers were blowing up at the time you were in 2017?
I wasn't doing the s**t that they was doing. My deal ain't set up the way they deal set up, and I know how to save money.
As a rapper who isn't really out and on the scene often, you have still become a popular act. What made you such a low-key person?
I'm really a ghost. You gotta catch me. You ain't finna see me or run into me nowhere. I don't do too much moving around unless it's worth it. I wasn't always like that. It's just that over time, I been through a lot and I get to learning so much, then I realize that I don't have to do certain things no more.
Memphis rap is going through a renaissance, but you were coming up before that and have maintained relevance through it. Where do you think you fit into the picture of your hometown's scene?
I don't fit in. I love everybody, but I don't fit in. I got my own Memphis.
You've stayed in your own world, but people have never taken offense to it.
They take offense, but they'll never say nothing. I just s**t on 'em, keep s**ttin' on 'em.
You've been with PRE since the early days, and definitely part of the reason the label became popular. What do you see as your responsibilities now as their marquee artist?
My job is just to make sure that the brand stays alive, stays standing tall, like bro'll [Young Dolph] want it. Everything else don't really matter to me as long as I make sure this brand is here to stay, forever.
Outside of the music, is there something else you've been doing or need to do to keep pushing PRE forward?
It ain't just me. You got Kenny [Muney], you got [Jay] Fizzle, you got BandPlay. Glock ain't the only one that gon' make sure it stay relevant. It's everybody job. This what everybody's on. I don't look at nothing like a one-man thing. Unless it's a Glock tape.
Two constants on Glockoma 2 are the ways you keep Dolph's name alive and the urgency in the music. Where does the more focused energy in the music come from?
I was mad. I was mad making most of those songs, so, that's where that energy came from.
When you finished those songs, and now they're on Glockoma 2, did it feel cathartic or do you still have that mad energy?
Nah, I still got work to do. This the appetizer.
So, there's more music coming?
Hell yeah. A lot of it.
On your song "Ratchet," you say, "S**ttin' on the industry, can't crop me out the picture." Do you feel like the industry and rap media keeps you out of certain conversations?
Yeah, they do it. They try, but it don't get to me. That's what they don't understand. That s**t made me stronger. It really do something to me to know that muthaf**kas secretly listen to you and like you, but don't wanna like acknowledge you. Gotsta be since then. doing something right. That's how I look at it.
You're very known for not having features on your projects, but you've been featured on other artists' songs like Megan Thee Stallion's "Ungrateful" and Young Nudy's "Pot Roast." Why do you prefer to do features for other rappers, but not have them do that for you?
When I was open to doing stuff like that, muthaf**kas was steppin' on my foot, giving me the cold shoulder, and like that's another reason why I don't just f**k with people in the industry. That s**t showed me real early when I jumped in the game. And I just kept that chip on my shoulder ever since then.
What part of your career do you feel like you were getting the cold shoulder?
Yeah, it was early on. It take me to go through something one time to learn. If I go through it again, and it's the same result, it's my fault.
Covering the features you've done over the last couple of years, is there anything that sticks out for you?
Really all of 'em, because if I don't just genuinely mess with you, I'm
not even gon' get on your track.
Would you ever do another  collab album?
Oh, that's over. I don't know who gon' get that outta me. BandPlay! Paper Route! Everybody else, it's a wrap.
The Glockoma 2 Tour is going on now. Fellow Memphis rapper some months, for sure. Big Scarr was originally on the tour before his recent passing. How did you two start to build with each other?
It wasn't even no music. Just growing up in South Memphis, just watching each other grow up, being locked in.
"Ambition For Cash," from your 2021 project, Yellow Tape 2, was certified platinum this past February. What did that mean to you?
Before I even put it out, me and Dolph were going back-and-forth about that song and another one, about which one I wanted to be the single. I was like, "Bruh, I listen to you every time. We gon' go with my advice this time." I was like, "Bruh, I don't know what it is. I just feel something about this song. It ain't no normal trap Glock song." And soon as we know it, that muthaf**ka just got to shootin' up on its own.
How do you wanna be seen as a person and as an artist?
I ain't gon' lie, I don't even care about that. I ain't even tryna be funny. I swear to God. At this point, I swear to God, I don't give a f**k what they think. Folks gon' hate either way. You gon' have to deal with that.
Was there ever a point where you considered not rapping at all anymore?
Yeah. End of 2021, I was like, "F**k this s**t." But the same s**t that made me say, "F**k this s**t," is the same reason why I continued to go hard. [I didn't rap for] five months. I ain't jump straight into it. It took some months, for sure.
How long do you think you're gonna rap?
I got about seven more years left. [Age] 32.
Why 32?
I'm tryna be a dad around that time. I'm tryna be chillin', relaxing with my money. I ain't tryna be on stage rapping.
It's strenuous.
I think I been done had enough fun by the time seven years come. I ain't realize artists, on the regular, they'll tour like once every year-and-a-half or every two years. I done had damn near three tours in a year-and-a-half. I'm tired!
Check out additional interviews in XXL magazine's spring 2023 issue, including the cover story with Lil Durk, conversations with Coi Leray, Joyner Lucas, Fridayy, Lola Brooke, Luh Tyler, Destroy Lonely, DJ Drama, Blxst, Curren$y, Finesse2tymes, Vic Mensa, Toosii and actor Tyler Lepley, plus a look at how famed hip-hop attorney Bradford Cohen helps clients like Drake and Kodak Black beat their cases, veteran photographer Johnny Nuñez tells the behind-the-scenes stories of 10 of his iconic hip-hop photos, six rappers from six different eras—Melle Mel, MC Shan, RZA, Lupe Fiasco, B.o.B and Cordae—discuss the change in hip-hop over 50 years and a deep dive into the city of Memphis becoming a breeding ground for new rap talent. 
See Photos From Lil Durk's XXL Magazine Spring 2023 Cover Story