Ice Spice, Taylor Swift, 'Karma' (Remix) – Listen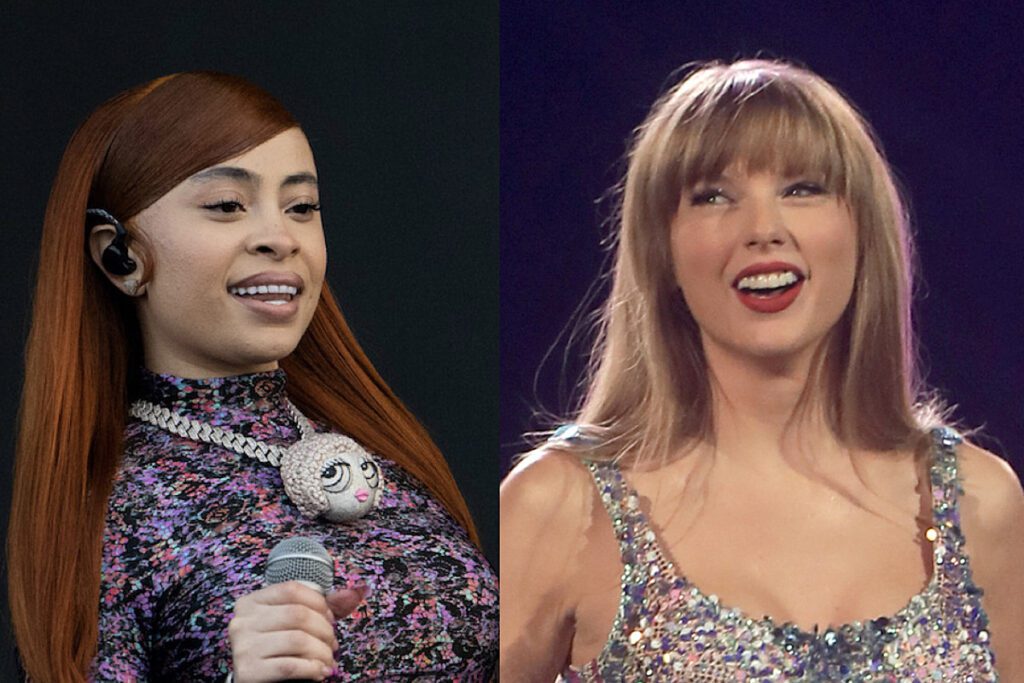 Ice Spice's star power has hit the mainstream with her collaborative track with Taylor Swift.
On Friday (May 26), Taylor Swift dropped her remix to the song "Karma," featuring a guest verse from Ice Spice. The song is from Swift's latest album Midnights deluxe edition, which was re-released tonight with bonus tracks.
On the song, Swift confronts people who have wronged her in the past and embraces that karma will come back to them. Meanwhile, Spice provides ad-libs throughout the track and spits a verse describing what karma would do to a person who treats her negatively.
"Karma is your tеxt about to bounce (Damn)/Karma is the fire in your house (Graah)/And she 'bout to pop up unannounced, like/And she never leavin' you alone (Damn)/Watch it put your opps up on the throne/Got you wavin' pretty white flags, fienin' for that cash/Thinkin' it'll save ya', now you switchin' up your behavior/It's okay baby, you ain't gotta worry, karma never gets lazy," she raps on the song, adding, "I be draggin' that wagon, karma is a beauty/Winning that pagent, grah."
A day prior, Swift sang the praises of the Bronx baddie on her Instagram account.
"Um. SO much to tell you," she captioned a post featuring an image of what appears to be the single's cover art. "I'm a massive fan of this brilliant artist and after getting to know her I can confirm: she is THE ONE to watch. So delighted to say that Karma Featuring the incredible @icespice will be out TOMORROW night at MIDNIGHT ET as a part of the new Midnights (Til Dawn Edition) deluxe album that you can pre-order now at store.taylorswift.com!"
Unfortunately, the duo's collabo track is getting backlash due to a viral video of Swift's rumored boyfriend, Matty Healy, making racist comments about the "Princess Diana" rapper.
In the clip, Swift's rumored boyfriend, rock group 1975 guitarist Matty Healy, makes an offensive comment about Spice during his February 2023 appearance on The Adam Friedland Show.
During a conversation, Ice Spice's name came up after Healy admitted he tried to slide in her DMs, and cohosts Adam Friedland and Nick Mullen made derogatory comments about the Bronx, N.Y. rhymer.
"This chubby Chinese lady. 'Yeah, I rap and [make] music.' Do they talk like that? Do Inuits talk like that?" one of the hosts joked.
"Yeah, that's what Ice Spice is like," Healy responded.
Taylor Swift has yet to comment on Matt Healy's abhorrent gaffe.
Listen to Ice Spice and Taylor Swift on Their Collabo "Karma" (Remix) Below
See Greatest Hip-Hop Duos of All Time