Ice Spice Fan Attempts to Give Her a Bouquet of Roses – Watch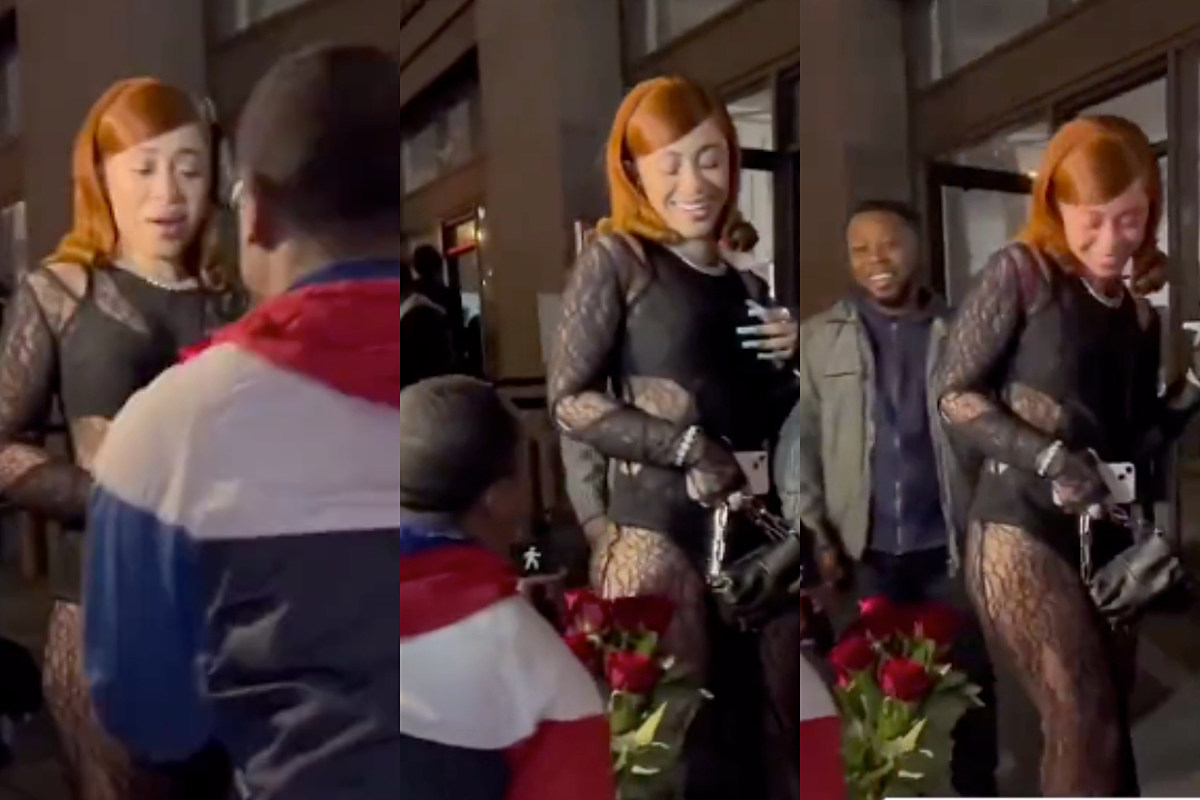 An Ice Spice fan attempted to give her a bouquet of roses recently but the "Munch (Feelin' U)" rapper ended up turning the admirer down.
On Sunday (Feb. 12), a video clip began to make its rounds across social media as a fan became the latest in a long line of people shooting their shot at Ice Spice. In the video clip below, the adoring fan can be seen trying to present the Bronx, N.Y. rapper with a beautiful bouquet of roses as she strolled into the Tia Adeola x Bowery Showroom NYFW Afterparty at the Williamsburg Hotel Ballroom in Brooklyn, N.Y. on Feb. 11. However, the fan's attempt was to no avail as Ice Spice simply acknowledged the gesture with a smile before going about her merry way.
As Ice Spice made her way into the venue she performed at that evening surrounded by her entourage, fans and photographers, the fan was spotted on camera getting down on one knee in front of the "Gangsta Boo" spitter before extending his arms to present the ravishing red floral arrangement. While Ice Spice was seemingly more than flattered, she decided not to accept the gift despite Valentine's Day being just days away.
The fan's failed attempt to woo the Like..? artist with flowers follows a highly publicized attempt made by comedian Druski to win Ice Spice's heart. After she appeared on Druski's Instagram Live back in December, the hip-hop adjacent comic faced a series of backlash regarding some comments he made while jokingly trying to sign Ice Spice to his fictitious record label, Coulda Been Records.
"We don't give a fuck about that song. Bitch, DM me," Druski told Ice Spice said in jest. "I don't give a fuck about that song, DM me."
Druski then provided an update on exactly where he stands with the "In Ha Mood" rhymer back in January by declaring on Shannon's Sharpe's Club Shay Shay podcast that despite putting in the work, he still hasn't received Ice Spice's phone number.
"I was trying to get with Ice Spice," he told Shannon Sharpe. "I still haven't got the chance. I tried.I didn't get her number. Like I said, you gotta let it come to you. At the end of the day, I'm the prize."
Although the aforementioned fan started Ice Spice's Saturday evening at the Williamsburg Hotel Ballroom on a positive note by trying to give her a bouquet of flowers, things took a much different turn inside the venue when Ice took the stage. The Bronx native ended up having to cut her performance short during a scary situation in which the crowd became unruly.
See Ice Spice Turn Down a Fan's Bouquet of Flowers and Watch Her Unruly Crowd in Brooklyn in the Videos Below
Here Are the Many Times Nicki Minaj Gave Flowers to Other Women in Hip-Hop