Drake Grabbed by the Throat by Eager Fan During His Walk-Through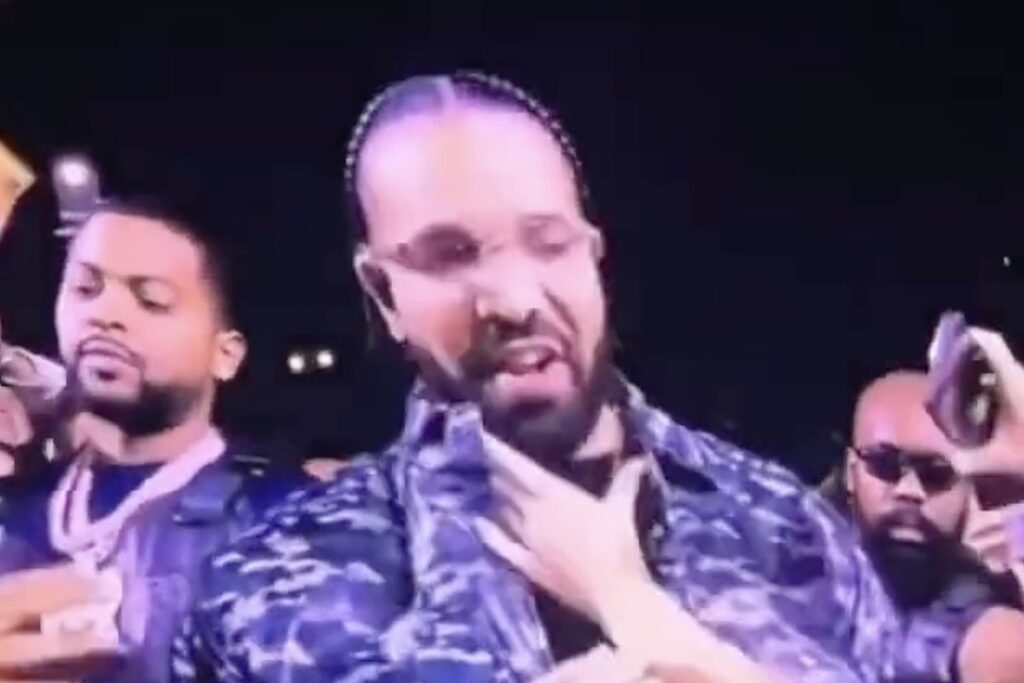 Drake almost had a close call when a fan grabbed the rap superstar by the throat as he was walking through the crowd.
Drake Grabbed by the Throat by Eager Fan During His Walk-Through
On Saturday (Aug. 26), Twitter user @mosthiphop posted a video of Drake's walkthrough at his It's All a Blur Tour. In the clip, which can be viewed below, the Grammy winning rapper is all smiles as he shakes hands with fans while walking through the crowd. Suddenly, an overzealous fan (playfully?) grabs Drake by the throat. The 6 God was able to quickly move the hand away from his neck and he continued to walk through the audience.
"Why she grab Drake like that LMAOOO," read the caption.
It's unclear what the fan was trying to do, but they are a very touchy-feely.
Drake Had to Yell at a Fan for Snatching a Towel From a Woman
Drake fans have been aggressive at his shows. Earlier this month, the OVO Sound leader had to yell at a man who violently snatched Drake's sweaty towel from a woman after he threw it in the crowd. After finishing his show, Drake left the stage and decided to toss his sweaty towel into the crowd near the stage. When Drizzy threw his towel, both a woman and a man grabbed onto it at the same time. Suddenly, they both fought over the possession of the towel. According to eyewitnesses, the man ultimately snatched the towel from the woman, leaving her empty-handed.
Drake witnessed the whole thing and was furious. He screamed at the male fan, "Are you dumb?"
The 36-year-old rhymer then promised to send someone to get the woman's contact information so he could send her a gift after getting her towel gaffled by a male fan.
It was a chaotic scene with security and staff looking on in disbelief. Thankfully, it appears that no one was physically injured.
Watch Drake almost get choked by a fan below.
Watch a Fan Grab Drake by the Throat During His Walkthrough
See the Guide to Rappers Touring in 2023