Coi Leray Interview – 'I'm Amazing at This Music'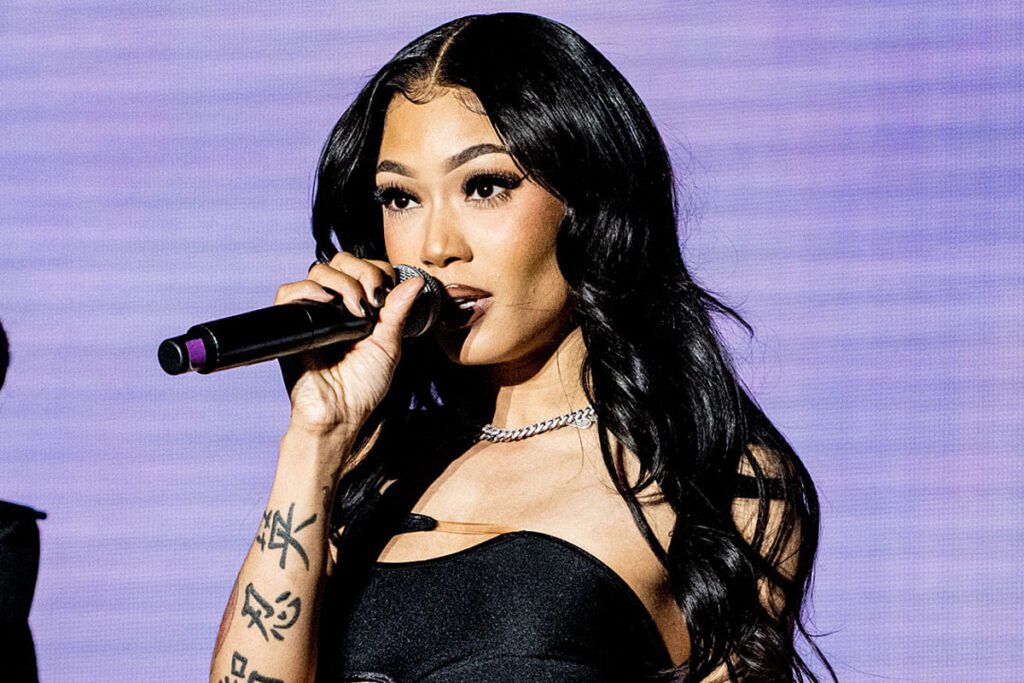 Perfect Timing
From platinum bangers to designer-darling status, Coi Leray is seizing the moment she was born ready for while proving her critics wrong.
Words: Stacy-Ann Ellis
Editor's Note: This story appears in the Spring 2023 issue of XXL Magazine, on stands now.
The year is 2021, and a then-24-year-old Coi Leray is pacing the Rolling Loud Miami stage, signature shoulder-length plaits swinging, doing her best to entertain a mannequin-still crowd that simply won't budge. Despite an energetic set of brazen bars, vocals, animated moves and a posse of hype men, viral footage has memorialized the unresponsive crowd with a bevy of unkind comments piled underneath it.
Fast-forward two years later, and the now-26-year-old rapper's return to Rolling Loud in California this past March is nothing short of triumphant. Despite being flanked by a lean troupe of dancers, Coi commands the stage from the center of them, radiating It-girl energy. Crisp vocals are unaffected by sharp Michele Soulchild choreography. A bodysuit proudly shows off every inch of Coi's petite frame. Sultry, confident stage presence is on 100. Curly bundles swing just above the apple bottom that inspired her chart-certified song of the season, "Players." And the audience is in full sing-along mode, eating it all up. "'Boutta catch another flight/The apple bottom make 'em wanna bite/I just wanna have a good night/I just wanna have a good night (hold up)," the crowd rap-sings with her.
The Johnny Goldstein-produced record flips "The Message," Grandmaster Flash & The Furious Five's 1982 hit. Since its release last November via Coi's label Uptown/ Republic Records, "Players" has already scored Leray a No. 1 spot on the Billboard Hot Rap Songs Chart, rose to No. 9 on the Hot 100 (her fourth entry on the chart and first Top 10 hit) and led to her TV performance debut on ABC's Jimmy Kimmel Live! All with Grandmaster Flash's public blessing quieting any critics of her using the same beloved sample as Puffy's "Can't Nobody Hold Me Down" and Ice Cube's "Check Yo Self."
This year, the artist born Coi Leray Collins is in the middle of a glow up that she's long been preparing for. "Not everybody could do what I do, and that's the best part about this s**t," she says via Zoom in late March. "A lot of people were capable, but if that was the case there'd be a million Coi Lerays. There's only one. God has blessed me."
The Boston-born, New Jersey-raised artist Zooms in on a March afternoon from California during a tight travel window between appointments. It's a camera-off affair, and understandably so. The night prior, she took the mic at Spotify's I'm Feelin' Myself Fashion Show in Los Angeles alongside fellow rap gal performers Doechii, Rubi Rose, Baby Tate and Bia. The next day, Coi will be in Las Vegas for a performance at Jewel Nightclub. And although excited, she's steeling herself for a booked and busy festival season, with appearances scheduled for Ultra Music Festival, Something In The Water, Rutgers University, University of Santa Barbara, University of Buffalo, Hot 97 Summer Jam, Revolve Fest at Coachella and Rolling Loud Germany, to name a few. Talk about being in demand. "Whether you're old, tall, short, young, I just got this energy that people adore and they want more of it," Coi insists. "It becomes a little addicting."
"She has that it factor," D'Anthony Bly, Leray's cousin-turned-manager and Founder/CEO of 11 11 Management, adds in agreement. The two started working together in 2018, after Bly heard "G.A.N.," the buzzing, bass-heavy lead single from her 2018 debut tape, Everything CoZ, which she recorded after quitting her customer service job in late 2017. Having already been working in the music scene (Bly is also the son of radio icon Cherry Martinez, formerly of Power 105.1), his ears perked up when he heard something that felt different. "I knew that there was nothing like her," he reflects. "I still see what I saw then, today. When she blew up, it was the perfect timing. She still had to come into herself."
Since that first song, Leray has been slowly chipping away at her own lane and through the internet noise to be taken seriously as an artist—one with both substance and skill. "I feel like I paved the way for natural girls—and even other natural female artists—to come out and live in [their] skin and own that," she conveys regarding flaunting her slim frame. Coi insists she didn't ask to be put on that pedestal, but is happy to offer an alternative to social media's most praised body types: "Glorify the real-life things and make girls understand it's OK to live in [their] own skin."
Sonically, Coi has proven herself to be an expert shapeshifter over time. She's been able to flex her sound from the boyish bite of throwback favorite "Huddy" and R&B vibes on "Life Goes On," to the airy vocals of "No More Parties" and relaxed talk-rap melodies of "Players." "When you link with major producers, come across amazing songwriters and people who play instruments, and the team is expanding, it all plays into the music," she explains. "I'm literally evolving every single time."
The same versatility goes for her sartorial taste. The baggy clothes of her CoZ era have turned into neck-breaking moments like her Fashion Week appearances with Moschino, Diesel, JW Anderson and, of course, the sheer dress with Saint Laurent. As the only girl growing up amongst five brothers, now is the time she's embracing the makeup, heels and long hair of her feminine side through style. "I enjoy the sexy clothes, and I love my swagger s**t, too," she tells. "What I admire about the fashion industry is that I get to be who I want to be, and they fall in love with me. Yes, it's about the clothes, but it's about the person who is wearing them, too."
Back in December, New York magazine's cheeky deep dive on "The Year of the Nepo Baby" put Hollywood on edge, reinvigorating the conversation around inherited fame and privilege. Some famous offspring took the jabs in stride, while others felt compelled to defend the validity of their careers and separate their accomplishments from that of their family tree.
Leray, a child of hip-hop by birth, rejects any silver spoon talk and has managed to keep a healthy distance from her industry roots in order to build her legacy her way. Her father Raymond "Benzino" Scott is a rapper, producer, TV personality and, most notably, a former co-owner of The Source magazine. Leray shied away from questions about her father in this interview, but has publicly opened up about navigating their relationship and trying to sidestep the shadow of his controversial career.
"I never wanted to come into the industry having the Benzino card to me because I feel there are a lot of bridges that were burned in the past, and I don't want those to affect me," she said during a 2022 interview with Power 105.1's The Breakfast Club. The next month, the father and daughter exchanged their notso-subtle feelings about burning bridges.
When Benzino took issue with Eminem becoming an inductee into the Rock & Roll Hall of Fame before the likes of Nas and Lauryn Hill, Coi played peacemaker. She tweeted her support for the Detroit rapper, also adding to "build bridges and get over them before you burn the bridge and burn with it." In response, Benzino tweeted, "One day you will realize that the people in these blogs comment section do not really care about you like I do & your label execs will have you sell your soul to make millions. I LOVE & ADORE my only daughter but I will just have to do it from a distance."
Both parties have acknowledged their love for one another in the midst of their complicated relationship, but Coi Leray doesn't appear to welcome any extra weight or distractions on her climb to the top. "I feel like it's my time, and he needs to play the back," she told The Breakfast Club. "Ain't nothing wrong with sitting courtside. I love him. He's gonna be in the first row, but he has to understand that as a father you have to sit back and support."
Aside from back-and-forths with Benzino and the faceless bullies of the internet, when the numbers are reviewed, social media has been Coi Leray's friend when it comes to the work. "I feel like now we finally realized—my label, team—that no matter what, I'm amazing at this music s**t," Coi boasts.
"Every time somebody got something to say, she just comes back and just proves you wrong," Bly adds. The figures tell no lies. Thanks to its snackable chorus, the instant TikTok popularity of "Players" bolstered it into another stratosphere, just like several of her standout tracks before that. There were the RIAA double platinum-certified "No More Parties" (her first-ever) and the gold-certified "Big Purr (Prrdd)" featuring Pooh Shiesty in 2021. Then 2022 brought the infectious bestie anthem "Twinnem" and Nicki Minaj-assisted "Blick Blick," the latter, peaking at No. 1 on Apple iTunes in 16 countries.
However, Coi Leray and her team are keenly aware of cycles and how fickle trends can be, which is why they handle her impressive TikTok presence with caution. "That's just how you found out about them," Bly says, name-dropping viral discovery platforms of yesteryear like Vine and Dubsmash. "That doesn't mean that's the artist they are."
Coi is less concerned about being pigeonholed by a platform. "If that's what it is, then that's what it is," she states coolly. "I was the first person that broke on TikTok, so I can't even get mad if someone says, 'You're a TikTok artist.' I know that my music is timeless and its global."
She happily counts out all the new ways in which her world is expanding. "Players" remixes with Busta Rhymes, Dominican rapper Tokischa and French DJ David Guetta. Hopping on collabs and remixes with major pop stars like Sabrina Carpenter and K-pop group TXT (Tomorrow x Together). A placement on the Spider-Man: Into the Spider-Verse official soundtrack and forthcoming music with Pharrell. The same studio session responsible for Guetta's "Players" remix will bear even more fruit on both their albums. At Ultra Music Festival this past March, she and Guetta debuted "Baby Don't Hurt Me," their new song with AnneMarie sampling Haddaway's quintessential 1990's dance track, "What Is Love." "A lot of people start realizing, 'Oh, this is bigger than TikTok,'" the rapper adds.
And all of this is just a drop in the bucket. "I have so many hits on my hands now," Coi expresses matter-of-factly. "They heard 'Players.' I can't wait 'til they hear what the album is," she continues, teasing the followup to her debut album, Trendsetter. Her first LP debuted at No. 89 on the Billboard 200 album chart last year and was met with both praise and criticism from fans and media alike. Now, Coi is preparing to release her sophomore album, Coi. The project, which arrives June 23, has been teased with new singles "Bops" and "My Body."
But instead of emptying the chamber, Leray prefers a slower burn when it comes to sharing the goods. In fact, she'd been sitting on "Players" for a couple months before releasing it. "I remember growing up in the industry, when I first came on board, I wanted to just drop, drop, drop, drop, drop," Coi recalls. With her marketing acumen, she knows how important timing and placement will be to ensure success and longevity. "You gotta be selective. You gotta take your time, and don't think fast. Think smart."
It's all about strategy, or as Coi puts it plainly, it's a game of chess. And even though right now is undeniably her moment, she hasn't taken her eyes off the prize. "You don't wake up and be an icon," Coi says, making her goal for the next five years crystal clear. "An icon is made, molded, perfected, determined, focused. I feel like I'm a star, but I want to become an icon."
Check out additional interviews in XXL magazine's spring 2023 issue, including the cover story with Lil Durk, conversations with Key Glock, Joyner Lucas, Fridayy, Lola Brooke, Luh Tyler, Destroy Lonely, Blxst, Curren$y, Finesse2tymes, Vic Mensa, Toosii, DJ Drama and actor Tyler Lepley, plus a look at how famed hip-hop attorney Bradford Cohen helps clients like Drake and Kodak Black beat their cases, veteran photographer Johnny Nuñez tells the behind-the-scenes stories of 10 of his iconic hip-hop photos, six rappers from six different eras—Melle Mel, MC Shan, RZA, Lupe Fiasco, B.o.B and Cordae—discuss the change in hip-hop over 50 years and a deep dive into the city of Memphis becoming a breeding ground for new rap talent. 
See Photos From Lil Durk's XXL Magazine Spring 2023 Cover Story