Blueface Says Chrisean Rock Smoked Before Going Into Labor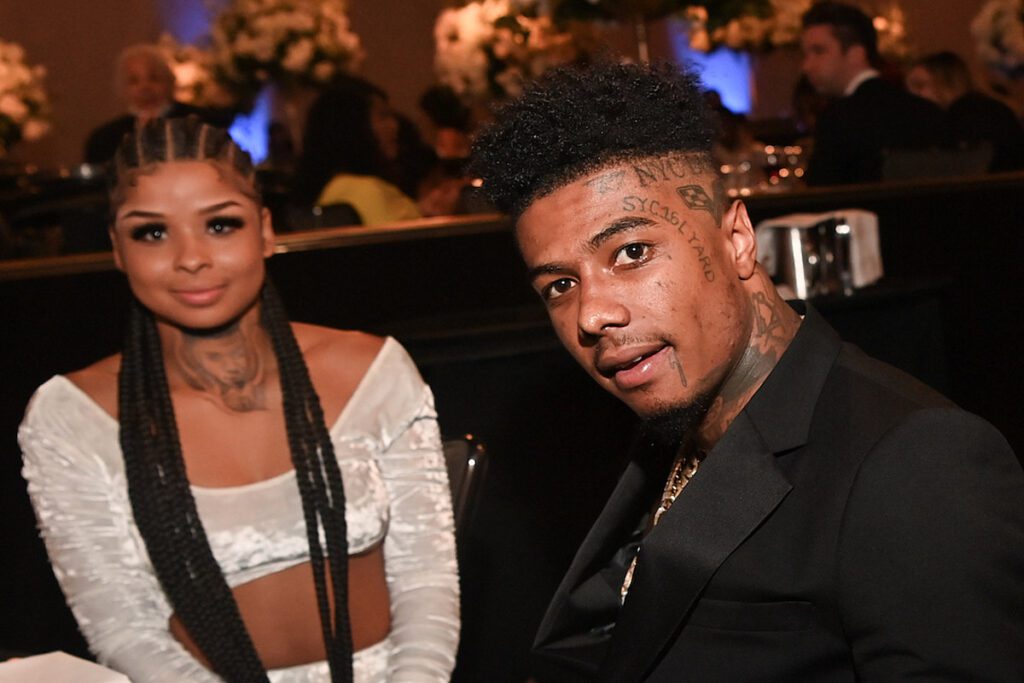 Blueface hopped on social media today and showed a text message from Chrisean Rock, in which she admits that she smoked before going into labor with their son, Chrisean Malone Jr.
Blueface Posts Screenshot of Chrisean Rock Admitting She Smoked Before Going Into Labor
On Thursday (Sept. 7), Blueface hit up Twitter and shared a screenshot of a text message from Chrisean Rock. In the tweet, Blueface posted the text message from Chrisean Rock, who admitted to smoking before going into labor with their newborn baby earlier this week. In the tweet, which can be seen below, Blueface wrote that he'd only fight for parental rights if Chrisean Rock doesn't start taking care of their son properly.
"You smoked your way to birth, you don't think I can get the kid fr," Blueface wrote in the tweet. "I have no intentions to take the baby, but if you are not showing the right signs, I will do what's best."
The text message reads: "No I just was Rey to perform at the arena in Baltimore gbut my water had a slow leak the whole time so I ended up having the baby dat day I was suppose to perform …. Then u keep trolling so I just did dat s**t alone fr … wen I called u wen u first was in Miami … I still had no clue I just kept smoking so I thought tht s**t was brickyon hicks… but honestly at the end of the day if u wanted to be there u would have picked up n came wen I."
Earlier today, Chrisean Rock went on Instagram Live and asserted that Blue won't take Chrisean Malone Jr. away from her. The video can be seen below.
Blueface Seeks to File for Custody of His and Chrisean Rock's Son
On Sept. 5, Blueface warned Chrisean Rock on social media that he would file for custody of their newborn son after he saw a video of Chrisean Rock working out at the gym for the first time since giving birth. The rapper hit up Twitter and created a series of since-deleted tweets that bashed Chrisean Rock for not paying close attention to their son. The tweets can be seen below.
"Sad part about all this is she doesn't know we care about the baby more then her at this point," Blue typed. "She so selfish shes only worried about what she wants to do instead of what's best for the child 24hrs later literally I can't believe y'all thought a kid would change anything."
Blueface also wrote: "If she don't take my son serious an make that her main focus an priority for atleast 30days I will file for custody you've been warned. My kid not finna be molested and touched on like everybody in her family dead homys I don't play them typa games."
On Sept. 3, Chrisean Rock gave birth to her baby with Blueface. The reality TV star named her and Blueface's son after herself: Chrisean Malone.
Look at Blueface's proof about Chrisean Rock smoking before giving birth to Chrisean Malone Jr. below.
See Blueface's Screenshot of Chrisean Rock's Text Message Admitting She Smoked Before Going Into Labor
Watch Chrisean Rock Say Blueface Isn't Taking Chrisean Malone Jr. From Her
See Blueface Say He Wants to File for Custody of Chrisean Malone Jr.
See 10 of the Shortest Beefs in Hip-Hop
Beefs within rap that ended quickly.