Blueface Disses His Mother for Airing Out Her Sexual Activities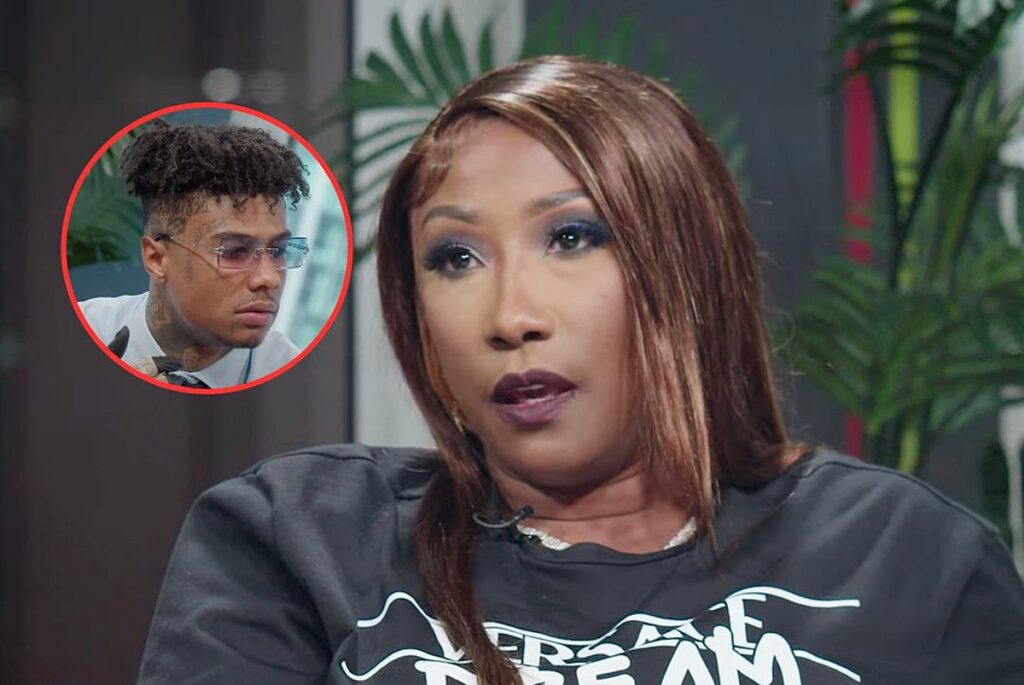 Blueface goes in on his mother again. The Los Angeles rapper dissed his mom for airing out her sexual activities on The Jason Lee Show.
Blueface Slams His Mom for Talking About Her Past Sex Life
Blueface is still upset over his mother Karlissa Saffold Harvey's tell-all interview on The Jason Lee Show, which premiered on YouTube on Wednesday (Nov. 15). On Thursday (Nov. 16), the Los Angeles rapper went on a rant on X, formerly known as Twitter, to air out his mom for detailing sexual activities and turning down sexual advances from celebrities like Ice Cube, 50 Cent, Snoop Dogg and Shaquille O'Neal. He also didn't like some of the small-penis remarks she said about him. You can read Blue's posts below.
"Karlissa why is you telling this sad ass story I like being disliked," Blueface began. "Yo husband d**k is not bigger then mine on sY stop saying that."
"Karlissa chooses men by their penis size an wonders why she ended up with a bum after all the cocks she had [tears of joy emoji] my 'WIFE' could never [diamond ring emoji]," he added.
Later, Blueface then dissed his mother for talking about the celebrities she allegedly turned down, which included 50, Snoop and Shaq.
"All them celebrity's she named an ended up married to a bum name sterling silver," he tweeted. "Jaidyn is a better mother better wife better women idk why karlissa keep down talking my wife for not being a cock chaser."
"That's why I have so much respect for Jaidyn as much as she could have had my kids around other men tryna find new d**k…JUST TO GET OVER THE LAST D**K she sacrificed her desires to do what was best for our children instead of herself [gold medal emoji]," he continued.
The "Thotiana" rapper criticized his mother for not taking a DNA test to determine which of the two men is his biological father.
"She [Karlissa] ain't Know who my big bro dad was so instead of having both men take a DNA test an facing her problems so her child didn't suffer fatherlessly for her being a whore she ran selfishly an decided he didn't need a father an he did 12 years in prison because of it," Blue wrote.
"You should have spoke more on your acting career an maybe acknowledged the celebrities an people that got you these roles so they would recognize you an we all would respect you but no you wan get on here an explain a cock fest," he continued. "My dad was great btw all that shit was cap he the one had me playing football fr."
"She talm bout Shaquille O'Neal was coming over but I wouldn't go to sleep like wtf is going on [tears of joy emoji]," he added.
"You should have told me it was shaq I would have played sleep for cuz," he concluded.
Blueface's Mom Gives Tell-All Interview on The Jason Lee Show
The Jason Lee Show recently aired a new interview with Blueface's mom following his appearance on the show last month with his fiancée Jaidyn Alexis. Karlissa talked about a bunch of stuff during the convo, including why Blue doesn't talk about his childhood much.
The in-depth interview, which you can watch below, also saw Karlissa revealing that her husband's penis is bigger than Blueface's in a viral post earlier this year.
"Y'all already got mad when I said something about that," Karlissa responded around the 2:04:15-mark of the interview. "So, I ain't bringing up that d**k. I just know my man d**k bigger than his d**k," she continued, saying she was just playing. "That was like a joke to be funny. That was trolling. So, I don't know."
At the 2:47:37-mark in the video below, Karlissa talks about her near romantic run-in with Shaq. Karlissa says that the NBA Hall of Famer came to her house, but her son, Blue, who was just a baby at the time, kept crying and wouldn't go to sleep. Because Blue was being so fussy, she had to ask Shaq to leave.
Check out Blueface's angry tweets at his mother following her appearance on The Jason Lee Show below.
Read Blueface's Disses Towards His Mother for Talking About Her Past Sexual Activities Below
Watch Blueface's Mom Karlissa Saffold Harvey Talk About Her Past Sex Life, Her Run-Ins With Celebrities and More on The Jason Lee Show
See Times Rappers Tried to Hire People Off Social Media With Promises of Big Payouts