Akademiks Dares Megan Thee Stallion to Sue Him Over Leaked Info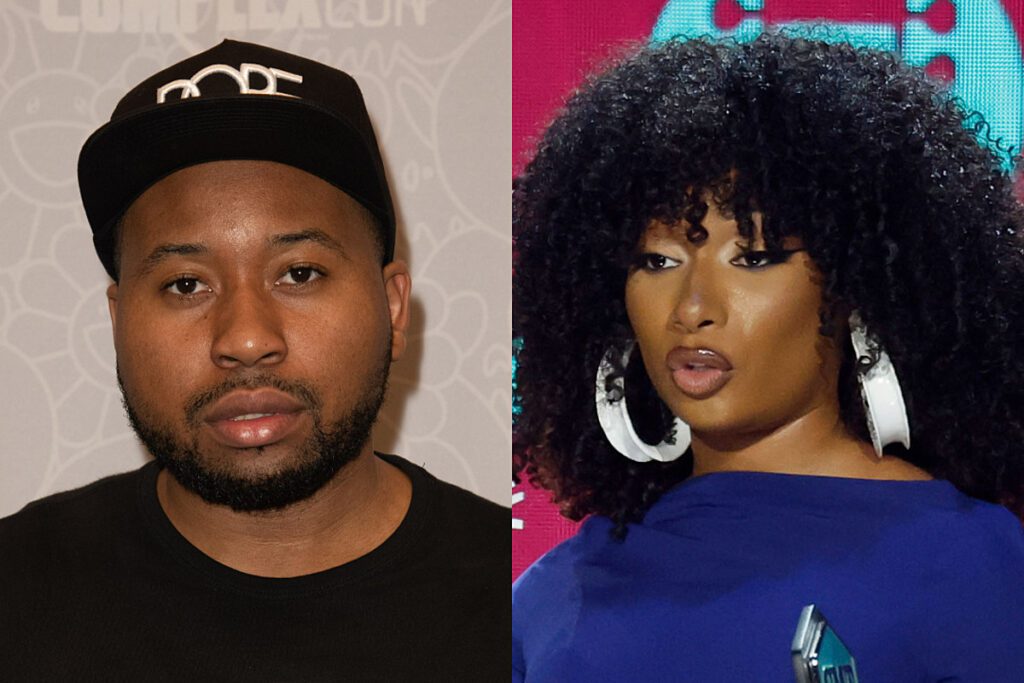 DJ Akademiks is daring Megan Thee Stallion to sue him for leaking information during the Tory Lanez shooting trial.
DJ Akademiks Reacts to Tory Lanez Being Sentenced to Serve 10 Years in Prison
On Tuesday (Aug. 8), immediately following the news that Tory Lanez had been sentenced to 10 years in prison for shooting Megan Thee Stallion in 2020, DJ Akademiks hit up the Rumble platform with his reaction. About halfway through the livestream, the hip-hop blogger sent a very pointed message in Meg's direction.
DJ Akademiks Dares Megan Thee Stallion to File a Lawsuit Against Him
After expressing his outrage toward the prison sentence Tory Lanez received, DJ Akademiks turned his attention toward Megan Thee Stallion and the legal affairs journalist who has been covering the shooting trial, Meghann Cuniff. Ak challenged the two Megs and anyone else who may be coming at him for leaking information during the shooting trial late last year.
"Here's the facts," a very animated DJ Akademiks says in the video clip below. "I could say whatever the f**k I want. Because I have an audience. That's y'all problem. I don't give a f**k. So, now, I'm upping the ante because I think people really think that n***as like me is b*****s. Bring the lawsuit or I'm going to tell y'all to s**k d**k every day. Y'all gotta bring a lawsuit."
Akademiks continues: "Meghann Cuniff, Meg Thee Stallion, all of y'all, I don't gotta tell you who the f**k gave me that information. If it was a serious enough problem, that f*****g judge would've f*****g tried to subpoena me."
Tory Lanez's Lawyers Reportedly Stated That Tory Leaked Trial Information to DJ Akademiks
According to Meghann Cuniff, an official document finds Tory Lanez's lawyers explaining that any information regarding the trial that was not initially made public was leaked to DJ Akademiks via Lanez directly.
"The judge found that Lanez leaked it to Akademiks," Meghan Cuniff says in the clip below. "Lanez's own lawyers said that. I mean, they described that that's how it happened in the document. And look, I can respect that he doesn't ever want to reveal who gave him that document. Like, he shouldn't have to do that."
Why Would Megan Thee Stallion Sue DJ Akademiks?
The reason why DJ Akademiks thinks he may be facing a lawsuit from Megan Thee Stallion stems all the way back to the onset of the initial court hearings for the Tory Lanez case in early 2022. Megan called out Akademiks in February of last year when he falsely reported that Tory's DNA was not found on the weapon involved in the shooting. The Houston rapper accused Ak of "spreading false narratives," implying that he was on Tory Lanez's "payroll" and finished by saying, "Please don't get sued trying to create a hate campaign."
In the video clips below, DJ Akademiks dares Megan Thee Stallion and Megan Cuniff to bring forth a lawsuit over the information that was leaked during the Tory Lanez trial.
Watch DJ Akademiks Dare Megan Thee Stallion to Sue Him for Leaking Information During the Tory Lanez Trial
These Tone-Deaf Hip-Hop Moments Prove Rappers Can Get Hit With Serious Backlash