50 Cent Hilariously Reacts to Draymond Green Ejection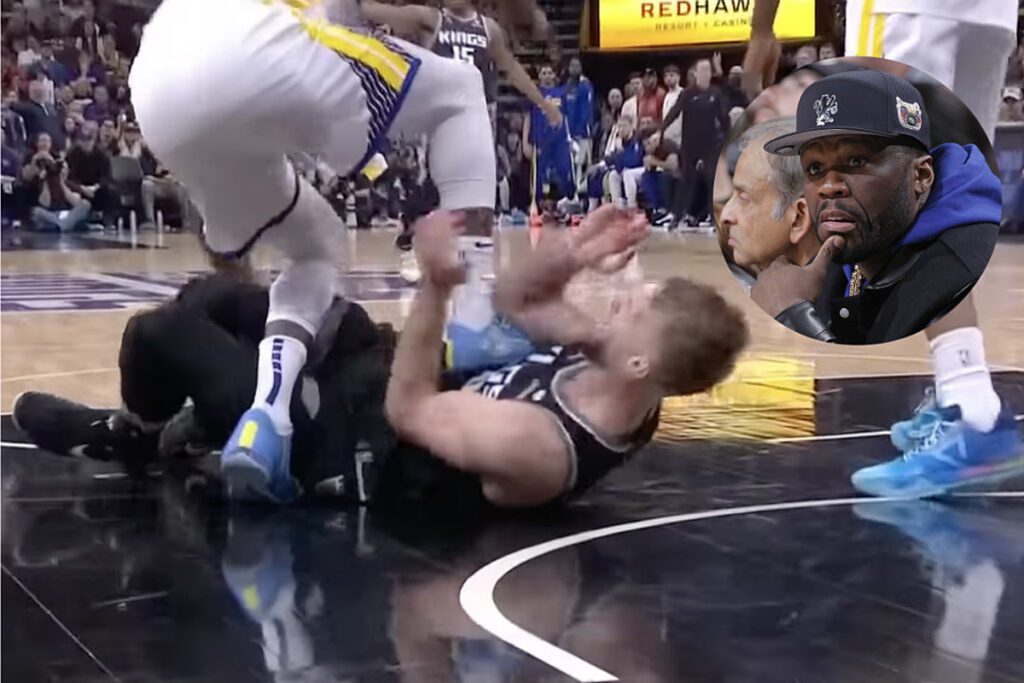 50 Cent is weighing in on the Golden State Warriors' Draymond Green being ejected for stomping on the Sacramento Kings' Domantas Sabonis during last night's NBA playoff game.
On Tuesday (April 18), 50 Cent hopped on Instagram with a hilarious reaction to the now viral video of Draymond Green stepping on Domantas Sabonis' chest after the two players got tangled up in the fourth quarter. Fif shared a collage of photos from the incident. The first pic shows Sabonis on the court appearing to grab Green's ankle. The second pic shows Green stomping on Sabonis' chest. A third image shows Sabonis rolling around on the court writhing in pain.
"Said @money23green what the fvck you do that for?" 50 Cent wrote in the caption. "He said 50 im a big stepper, i'm out here steppin on shit it's the play offs. i was sitting there looking like oh sh*t!"
The incident occurred with a little over seven minutes left in the final quarter of the game when Sabonis fell to the court. He grabbed Draymond Green's leg as Green was attempting to jump over him, which prompted Green to stomp down on Sabonis' torso.
Sabonis was called for a technical foul for grabbing Green's leg, and Green was assessed a flagrant foul 2, which led to an automatic ejection. Golden State went on to lose the game 106-114.
50 Cent has a vested interest in the Sacramento Kings. Last summer, his Sire Spirits line became the teams's official champagne sponsor.
See 50 Cent's Reaction to Draymond Green Being Ejected for Stepping on Domantas Sabonis' Chest During a Playoff Game Below
See 20 of the Best-Selling Hip-Hop Albums of All Time