5 Easter Eggs in Drake and J. Cole's 'First Person Shooter' Video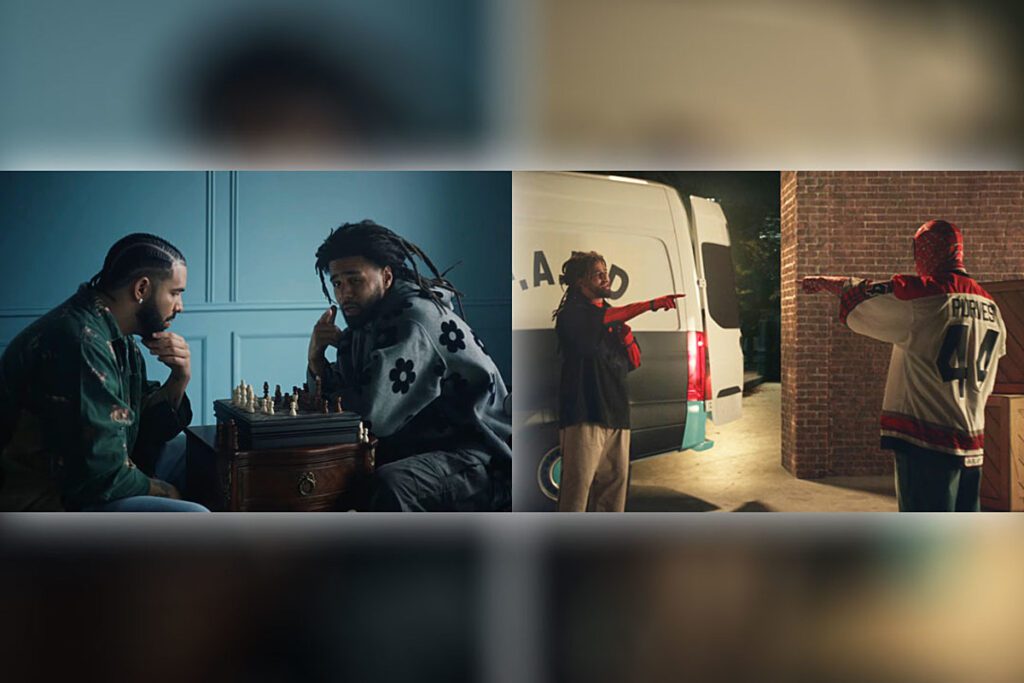 Drake and J. Cole have unleashed the official music video for "First Person Shooter" and it's packed with interesting things to pay attention to.
Drake Drops "First Person Shooter" Video Featuring J. Cole
On Wednesday afternoon (Nov. 15), Cole and Drizzy's beloved single off the 6 God's album For All the Dogs finally got the visual treatment. "First Person Shooter" was an early highlight off Drake's latest project. The track debuted at No. 1 on the Billboard Hot 100 chart on Oct. 18, and Drizzy and the Dreamville leader have since announced they'll be embarking on the It's All A Blur Tour – As Big As The What? starting in January.
The new Gibson Hazard-directed visual capitalizes on this momentum perfectly, and is filled with tons of crazy moments. Eagle-eyed viewers may notice a slew of easter eggs throughout the entertaining visual, which finds Drake and Cole competing to determine who's the true G.O.A.T. Here are a few highlights spotted in the "First Person Shooter" music video.
"Kevin" Shows Up at The Office in "First Person Shooter" Video
Actor Brian Baumgartner appears in the first scene of Drake and J. Cole's "First Person Shooter" video in a fitting location: the office. Baumgartner is known for playing the iconic role of Kevin Malone in the famed NBC sitcom The Office. In the music video, Baumgartner plays himself, but labeled an "interim manager" on a desk name plate. The CEO gives him a call as he's playing video games.
Despite assuring the boss "everything's good here" and "everybody's working hard," the office is full of fake employees because all the real staff is in a conference room watching Drizzy and Cole compete in a ping-pong match. The scene is a fitting intro for Cole's lyrics: "To them n***as that say they wan' off us, you better be talkin' 'bout workin' in cubicles."
Drake Makes Reference to Michael Jackson Throughout the Visual
When "First Person Shooter" reached the top of the Billboard Hot 100 chart in October, Drake tied Michael Jackson's long-running record for most No. 1 hits by a male solo artist in history. One month later, Drizzy is using the song's music video as an opportunity to flex the fact that he's neck and neck with the King of Pop.
J. Cole subtly wears high white socks and black loafers while battling Drake in a ping-pong match around the 1:21-mark. The moment is a nod to a famed match between Michael Jackson and Prince. In this case though, it looks like Cole is MJ. The next reference to MJ is a lot more blatant. In the video's final scene at the 4:13-mark, Drake recreates Jackson's 1982 "Billie Jean" music video by rapping on a rooftop with squares that light up with each step.
In addition to that, Drizzy sports a studded white glove, which is believed to be the same glove donned by Michael himself. The glove appears once Drake mimic's MJ's classic spin dance move. Champagne Papi then closes out the video with a similar dance move that Michael is known for as he raps "What the f**k, bro? I'm one away from Michael, n***a, beat it, n***a, beat it."
Drake and J. Cole Recreate Lionel Messi and Cristiano Ronaldo's Chess Photo
Drake and J. Cole recreate the viral photo of Lionel Messi and Cristiano Ronaldo engaging in a game of chess, which was shot for Louis Vuitton back in 2022, at the 1:40-mark of the video. The original photo, shot by legendary photographer Annie Leibovitz, was called "Victory is a State of Mind." It was meant to convey the competitive tension between two football legends—who would later that year play each other during the 2022 World Cup.
Drake and J. Cole sought to convey a similar matchup, considering they're two legends at the top of their game as well. As seen in the music video's teleprompter in the following scene, the chess game ends in a tie. Leaving Cole and Drake forced to duke it out in other ways.
Drake and J. Cole Reimagine the Famous Spider-Man Pointing Meme
At the 2:16-mark of the video, J. Cole emerges onto the screen, rhyming lyrics from the middle of verse two: "Rhymin' with me is the biggest mistake." While doing so, Cole is wearing a Spider-Man costume underneath his clothing. Another metaphor is displayed, directly connecting to Cole's next line: "The Spider-Man meme is me lookin' at Drake."
The two lyrical titans reimagine the famous Spider-Man pointing meme where two Spider Men point at each other, originating from a 1967 episode of the Spider-Man cartoon, titled "Double Identity," where a villainous Spider-Man impersonates the actual superhero. Spider-Man No.1 and No.2, Drizzy and Cole, whose scene shifts over to a basketball court, then interrupts an existing basketball game. In full-on Spidey mode, Drake proceeds to shoot organic webbing from his wrists to steal the ball from the players and launches up a Hail Mary from the complete opposite end of the court.
Drake Wears John Purves Hockey Jersey
During Drake and J. Cole's Spider-Man meme reenactment, Drizzy is seen sporting a #44 John Purves hockey jersey at the 2:20-mark of the video. Purves hails from Drake's hometown of Toronto, Canada and was a journeyman in the American Hockey League and International Hockey League throughout his 19-year career. He only played seven games in the National Hockey League, suiting up for the Washington Capitals during the 1990-1991 season. One of the teams he played for was the San Francisco Spiders. Purves' Spiders jersey is the one Drake is wearing in the visual.
Watch Drake and J. Cole's "First Person Shooter" Video
See Every Drake Project Ranked
What's your favorite Drake project?